Interview by Jen Longtin, PURE Juicer
Our PURE community is a vibrant bunch of juicers from around the world making a difference in their health and the health of others. Our goal is to use these stories to inspire everyone to new levels of vitality and community.
We met Kia through Instagram when we first started our social media community. We have followed her for more than a year on Instagram and we have been inspired by what she does to make our world better. 
What do you want us all to know about you? 
"Hi, I'm Kia! Also known as @GeauxJuice I am an avid traveler (pre-pandemic), part-time juicer & full-time Medical Social Worker. I decided to take the plunge & start traveling in my career to combat the COVID-19 virus with my first stop in Orange County, California. I am a plant-based vegan with a special type of love for fresh juices. I traveled from Texas to California in January 2021 with my Honda, clothes, and PURE juicer (sitting pretty in shotgun, of course!)
Juicing has changed my life in more ways than I can count. It has truly saved me from depression and overwhelming anxiety that I could not control beforehand. After finishing a juice session, I feel a great sense of accomplishment through providing fresh juice, recipes, and tutorial videos to friends, family, and customers."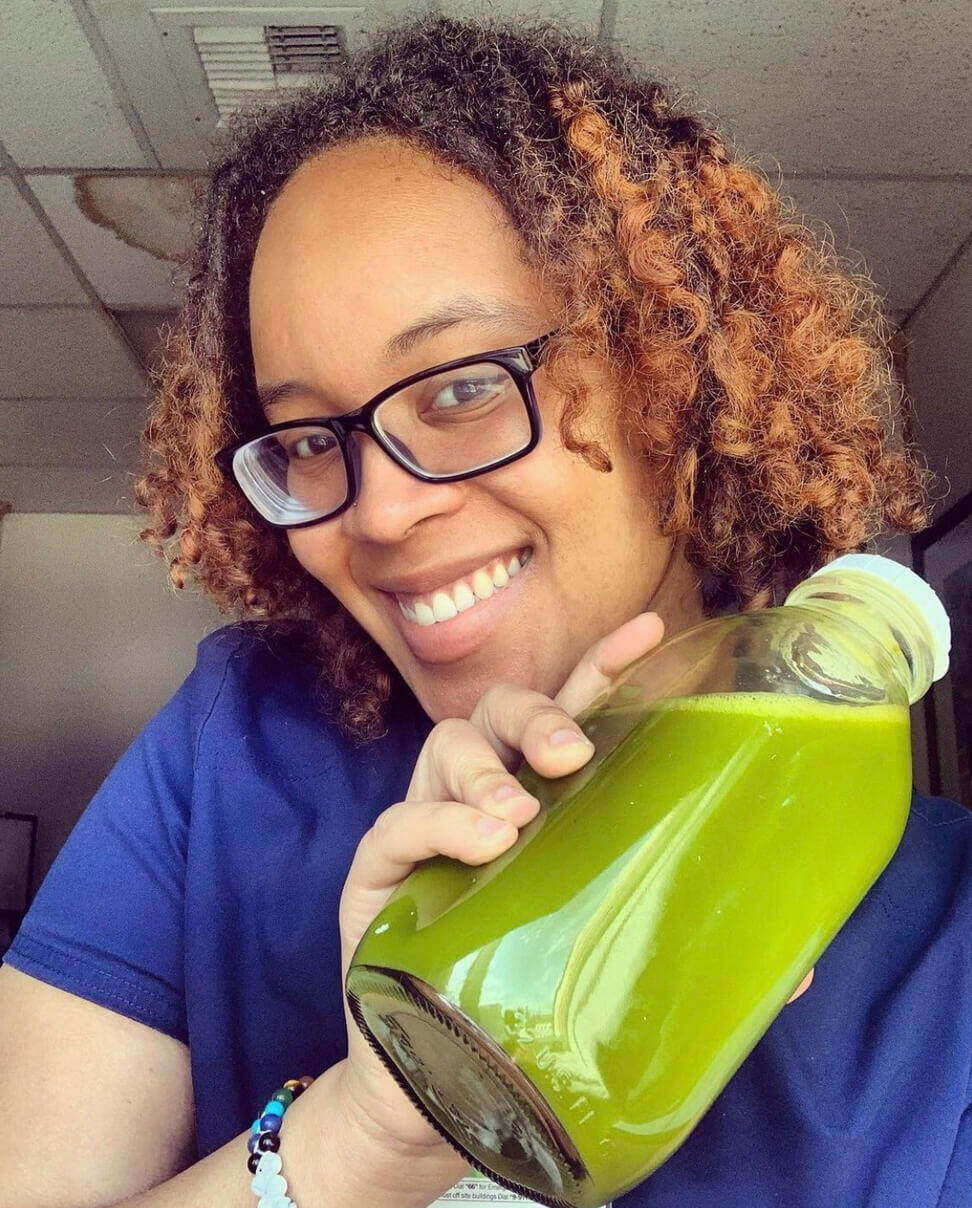 Why did you start juicing? 
"I started juicing to combat my obesity and depression. This in turn assisted me to lose 75lbs with diet and exercise. I also went through a major hurdle in my life with double jaw surgery in 2018, where I had to be wired shut for the majority of my recovery. I was able to get my nutrients through juicing and still stay full."
What did you notice (and maybe in what timespan) did you notice the impact of juicing?
"The change in my physical and mental health was almost immediate after I began juicing. My energy was increased, my mood was better and I discovered a niche for the craft, which led me to begin my home-based juice business 'Geaux Juice' in 2020."
What do you recommend to people afraid to start juicing? 
"What I recommend to anyone looking to get started with juicing is to invest in a durable and long-term sustainable cold-pressed machine that will give optimal benefits for long-term results. Also – write down those recipes!!"
What is your favorite juice? 
"My favorite juice is a tie between Peaches, Fennel Bulb, Pineapple and Ginger (!!) or Kale, Lemon, Black Grapes, Ginger, and Beet (!!)
What do friends think about juicing when they get started? 
They all ask… 'WHAT WAS I WAITING ON!?'"
What do you like about using the PURE Juicer? 
"I initially got into juicing in 2015 using a Breville Juice Fountain. This in turn led me to love the art of juicing and seek a machine that will yield a high quantity and quality of cold-pressed juices. Over the years, I bought an additional Breville, NAMA, and Kuving Juicer. Although the juicer provided tasty results, something was truly missing. I was still left with wet pulp! This led me to research different juicing machines that gave me a bang for my buck! I discovered the PURE in Spring 2020 and immediately fell in love. This was the best investment I could have done – not only for my juice business but for my own personal health and wellness. 
I love the fact that I will get my money's worth using the machine to press fresh my fruit and vegetables into something so tasty!! I also love that my pulp is dry allowing me to reuse or recycle it for composting, powder, or in my smoothies as extra fiber!
People are worried about the time it takes to juice. What do you say about this?
I love dedicating my mornings to juice for the day. I have become a pro with the machine so time is never an issue for me anymore. If you struggle with squeezing time, plan out a schedule that works for you, wash/prep your produce the night before, and have your recipes handy! (Write down what tastes good for next time!!)"
How do people connect with you?
"Connect with me at @GeauxJuice and never hesitate to reach out!"
Anything else we have missed? 
"I recommend all new and seasoned juicers step outside of the box with their creations. Research different herbs, spices, fruits, and vegetables that cater to your physical, mental, and emotional well-being. More importantly, keep glass jars handy!! Recycling is important for the earth and saves you money!
To anyone who still isn't convinced – START JUICING! What may seem expensive will save you a ton of money in the long run. I'm the frugal queen and I have yet to regret my PURE."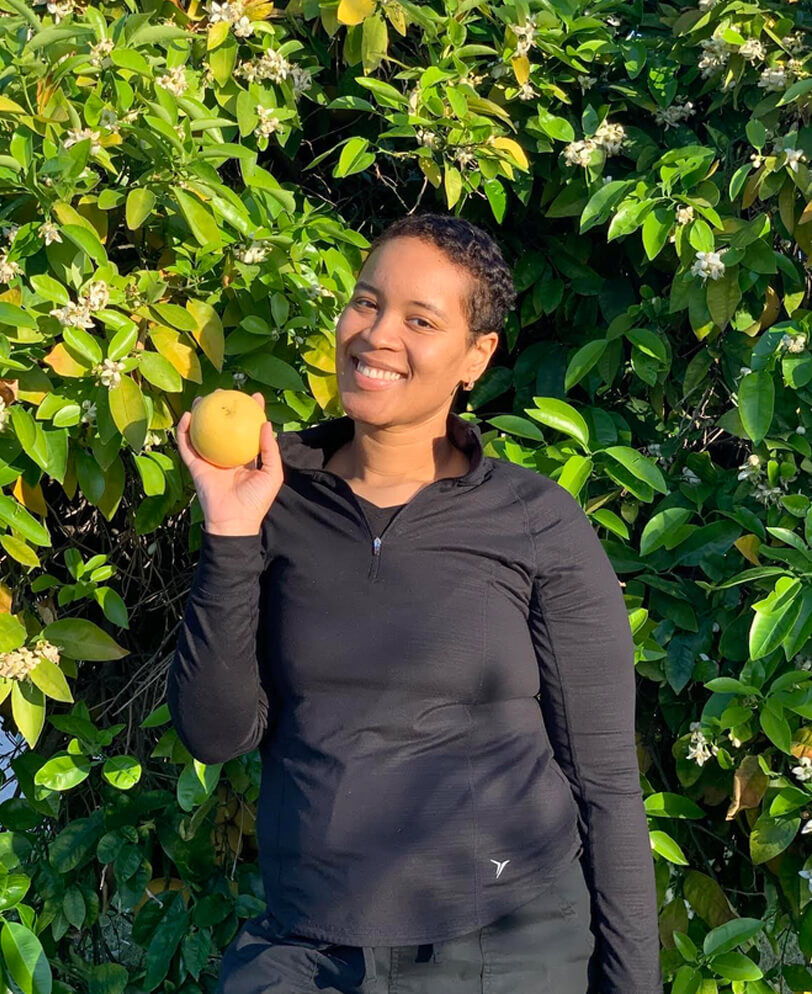 We welcome you to follow Kia on Instagram @GeauxJuice
Photos provided by Kia with features from Instagram.