Interview by Jen Longtin, PURE Juicer
Our PURE community is a vibrant bunch of juicers from around the world making a difference in their health and the health of others. Our goal is to use these stories to inspire everyone to new levels of vitality and community.
We are thrilled to present the third spotlight in our PURE Community blog post series on Ana Celia, founder of Vegana Juices! Ana is a gem of a human and we love following both her wellness and entrepreneurial journeys. Ana sells true cold-pressed organic juices in the Miami area using her PURE Juicer.
What do you want us all to know about you? 
"Hi guys!! Thank you for having me.
My name is Ana Celia, founder of Vegana Juices. I make and sell cold-pressed juices using organic produce and the PURE Juicer. My mission is to deliver something that is healthy and helps people upgrade their daily nutrition easily.
I was born and raised in Sao Paulo – Brasil, I then later moved to America as a teen and since then I have lived in Sacramento, San Diego, San Francisco, Atlanta, and now in Miami where I exclusively sell my juices. I have a 12 yo son and a 6 yo daughter. They're my world (and biggest cheerleaders).
I was working at a medical clinic when I first thought of creating a juice business. Every time I would bring my co-workers a juice, they'd love it. They'd also tell me how great it made them feel (pretty much the same as I felt!!) and that they would incorporate it into their lifestyle without a doubt.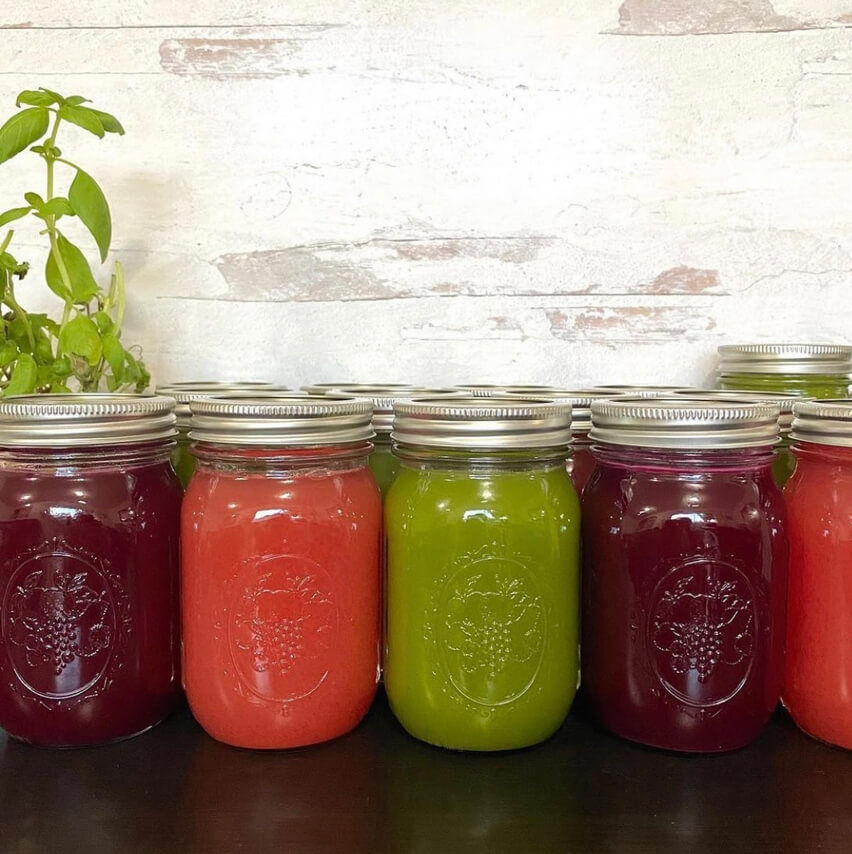 Plus juices are so addicting!! It's insane. The healthiest addiction in the world haha. The kind words from co-workers plus the infinite encouragement from close friends & family were the push I needed. Never underestimate the power of your words!! So during that time, I took the Holistic Nutrition Course from IIN (The Institute for Integrative Nutrition). Aside from new knowledge, the course gave me confidence in knowing that I was providing a service that was universally seen as healthy & good for people by doctors, professors, medical researchers, holistic practitioners, and countless positive testimonials from people who adopted juicing into their lifestyle. I also took endless plant-based cooking classes, juicing classes, you name it. I wanted, still want, all the knowledge I can get. Till my last day here, I want to be learning."
Would you like to share why you started juicing? 
"My Juicing Obsession, or should I say Journey hehe, started a decade ago when I lived in California and became vegetarian. During that time a friend gave me a book by Kris Carr, "Crazy Sexy Diet", that dedicated a whole chapter to juicing and its benefits. It also had great juicing recipes for beginners. The book was mainly about living a plant-based diet. I had flirted with the idea of becoming vegetarian for years, and this book plus other influences such as the documentary, "Forks Over Knives", the book, "The China Study", and tons of new vegan friends, played a role in "flipping" my vegetarian switch. The main reason was for the animals, but discovering all the health benefits that come with a plant-based diet helped me adapt to the green lifestyle with passion."
What did you notice (and maybe in what timespan) did you notice the impact of juicing?
"I became obsessed with green juice. When I drank my fresh greens I felt so energized, so good, my energy wouldn't crash, my skin looked vibrant, I felt light yet satisfied. When we eat and drink intentionally to give our bodies what it needs to function properly, we feel powerful. Like "that's what my body wanted" kinda feeling. "That was what I've been missing" kinda feeling. The whole idea of juicing is to provide our body with a straight shot of live enzymes, minerals, vitamins, and antioxidants. A single bottle of one of my juices contains 3-4 lbs of raw, organic produce. When we remove the fiber, we give our digestive system a break by making absorption effortless."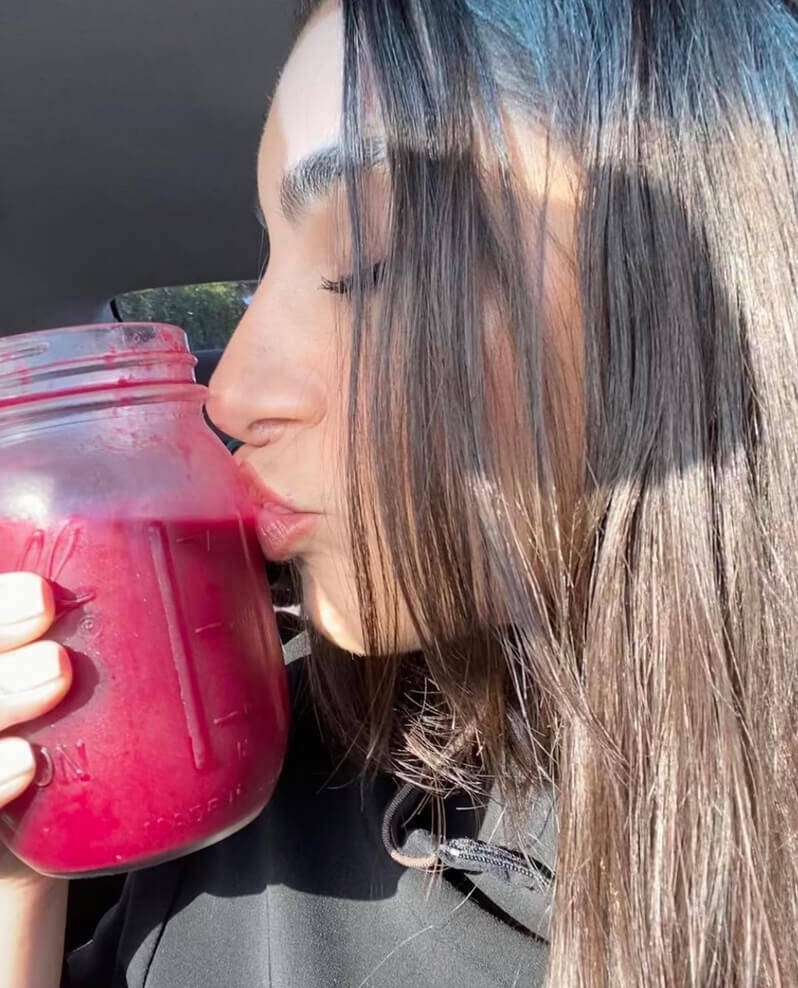 What do you recommend to people afraid to start juicing
"If you're not sure about juicing because of the time commitment, I'd say it's not harder than prepping a meal. It's actually easier since there's no cooking involved, no seasoning. Just nature's food & your juicer. Prep is always key. Plan ahead, get the produce for the recipes you want to have that week. Keep it simple. All veggies and fruits are loaded with vitamins, enzymes, minerals, antioxidants … no need to complicate. PURE Juicer is always posting great recipes on their Instagram. I have tried most of them and they're on point. Nutritious & delicious!! If you think it's a pricey commitment, I promise you it's an investment. The best kind out there. The return is wellness, healing, energy, clarity…. the list is endless. They say that the magic of juicing falls on its ability to create a healing environment for our bodies to repair all that needs attention. It floods our cells with nutrients effortlessly, since we give our digestive system a break by removing all the fiber. C'mon!! Does it get better than that? It's common sense to me. The OG vitamin infusion. No IV needed lol."
What is your favorite juice? What is the recipe?
"I'd say my favorite recipe, and an easy to please, is the "Sexy Time," with Pineapple, cucumber, mint, and apple. It's so basic, but yet hard to find someone who doesn't love it." Pictured here.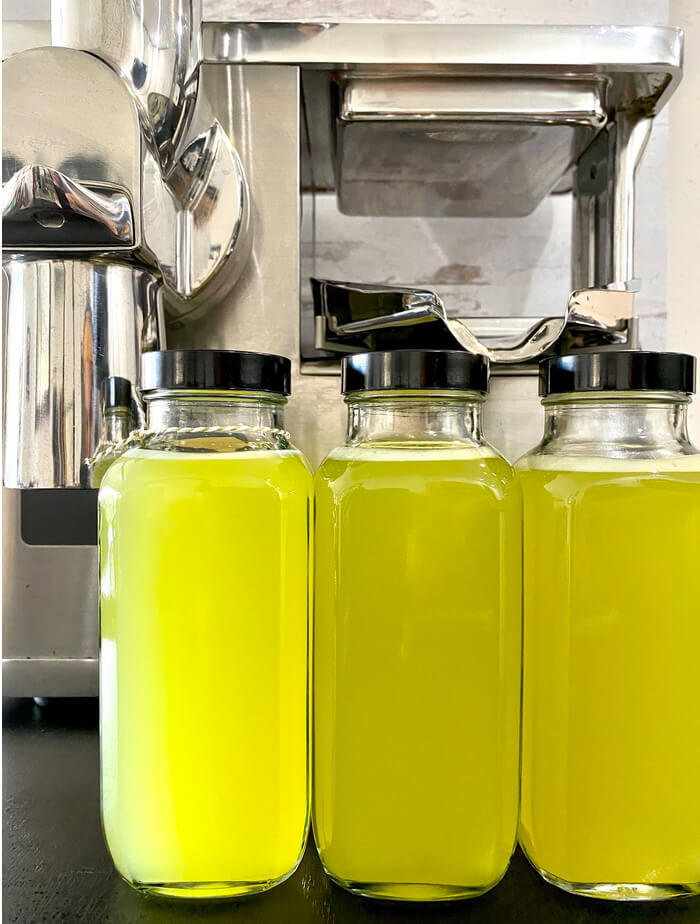 What do kids think about juicing?
"My kids love drinking juice. From beets to pineapple, to parsley greens, they drink all of them. Even the spicy ones! To be honest, most kids will love fresh green juice. I have tons of videos my clients send me of their babies drinking up all the juice they got for themselves. It's the best!! Makes me so happy I cry."
What do you like about using the PURE Juicer? 
"I knew that if I were to make juices for other people, it needed to be truly cold-pressed. It's scientifically proven to be the best method to extract all the goodies from the vegetables, fruits & roots with minimal nutritional loss. This method also gives the juices a longer shelf life. Since the juices are raw, the quality of ingredients and the juicer itself are extremely important. The PURE Juicer is a gift from heaven. It is easy to work with, easy on the eyes, and so, so, so easy to clean up. I had a centrifugal juicer and a slow masticating juicer prior to my PURE. The PURE Juicer is the best of the rest. The juice comes out so clean and delicious you can convert a lion into a green juice lover (don't test it though lol). Also, The pulp comes out dry as a cracker, which means a higher yield. Plus no messy little baskets that need brushing. All parts are stainless steel and dishwasher friendly. A breeze.
I also knew I didn't want plastic bottles. If I were to start a business, I wanted to do right by the planet. Sustainability is a big project we all need to be working on."
How do people connect with you? 
If you're interested in contacting me to order, please email Veganajuices@gmail.com or send me a DM through Instagram.
Anything else we have missed?
"Juicing is a whole world of dedication. You must have fresh produce, prep it, juice it, clean it… it can be a bit of a mission, but a very rewarding one. Homemade is always best, but if you're short of time (or patience) I like to think of myself as the second-best choice to homemade!! 
I make all juices with organic produce; I have menus, but always open to customizing recipes for my clients; I can incorporate Ayurvedic principles to create a personal menu, I can adapt it to a Keto client, and I deliver!!
Are you thirsty yet?? Haha, because I am!!"