Whether you're brand new to homemade almond milk or you've been hand-straining nut milk bags for years, you'll be amazed at how easy it is to made almond milk with the PURE Juicer.
Almond Milk Recipe
Yield: 16oz
Prep Time: 10 minutes
Total Time: 25 minutes
Ingredients
1 cup raw almonds
2-3 cups filtered water
2 dates
1/2 tsp vanilla extract
2 TBSP unsweetened cocoa (optional)
1/2 cup strawberries (optional)
Why choose almond milk?
If you're looking for a dairy free milk alternative you can make in the comfort of your own kitchen, homemade almond milk is a delicious choice.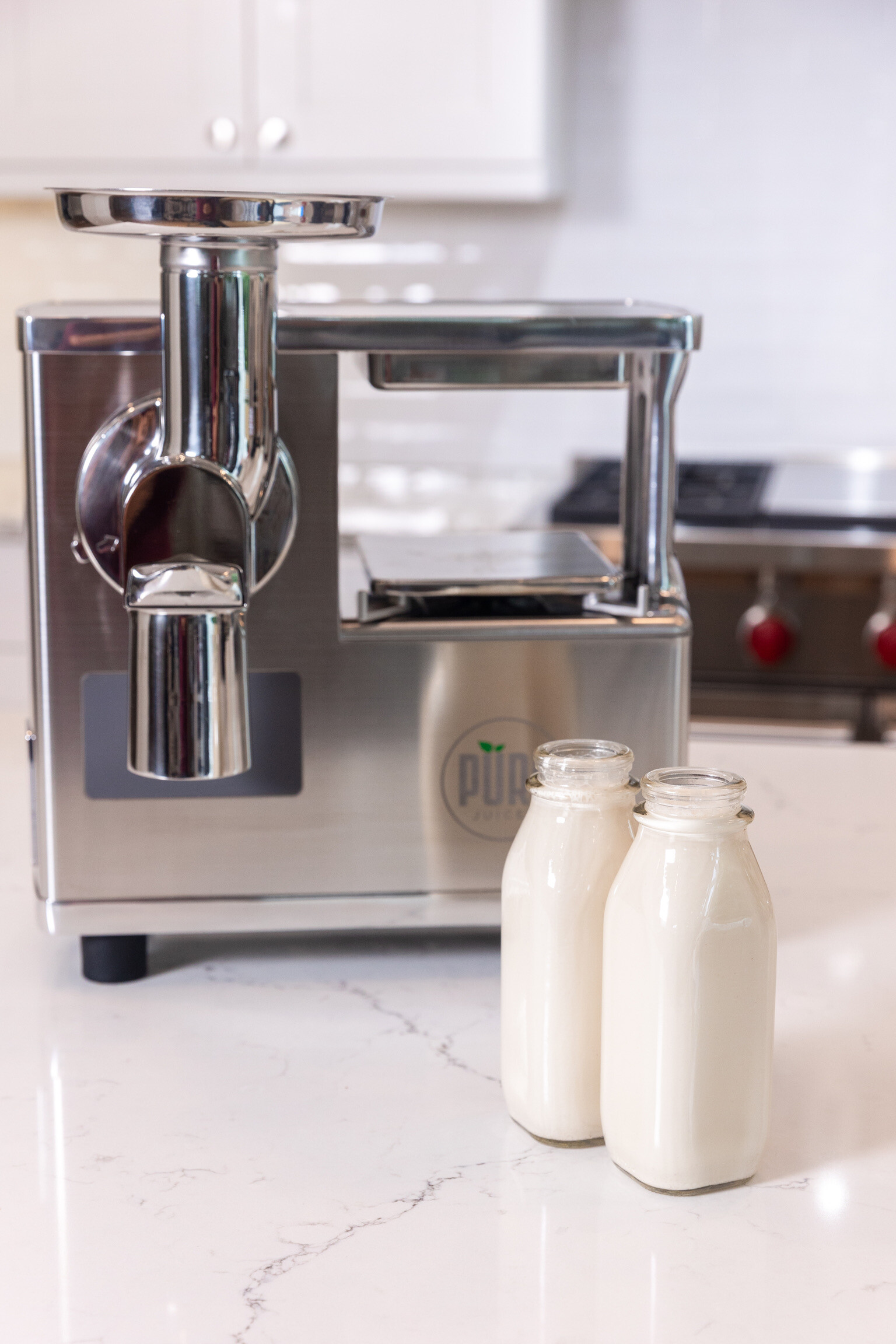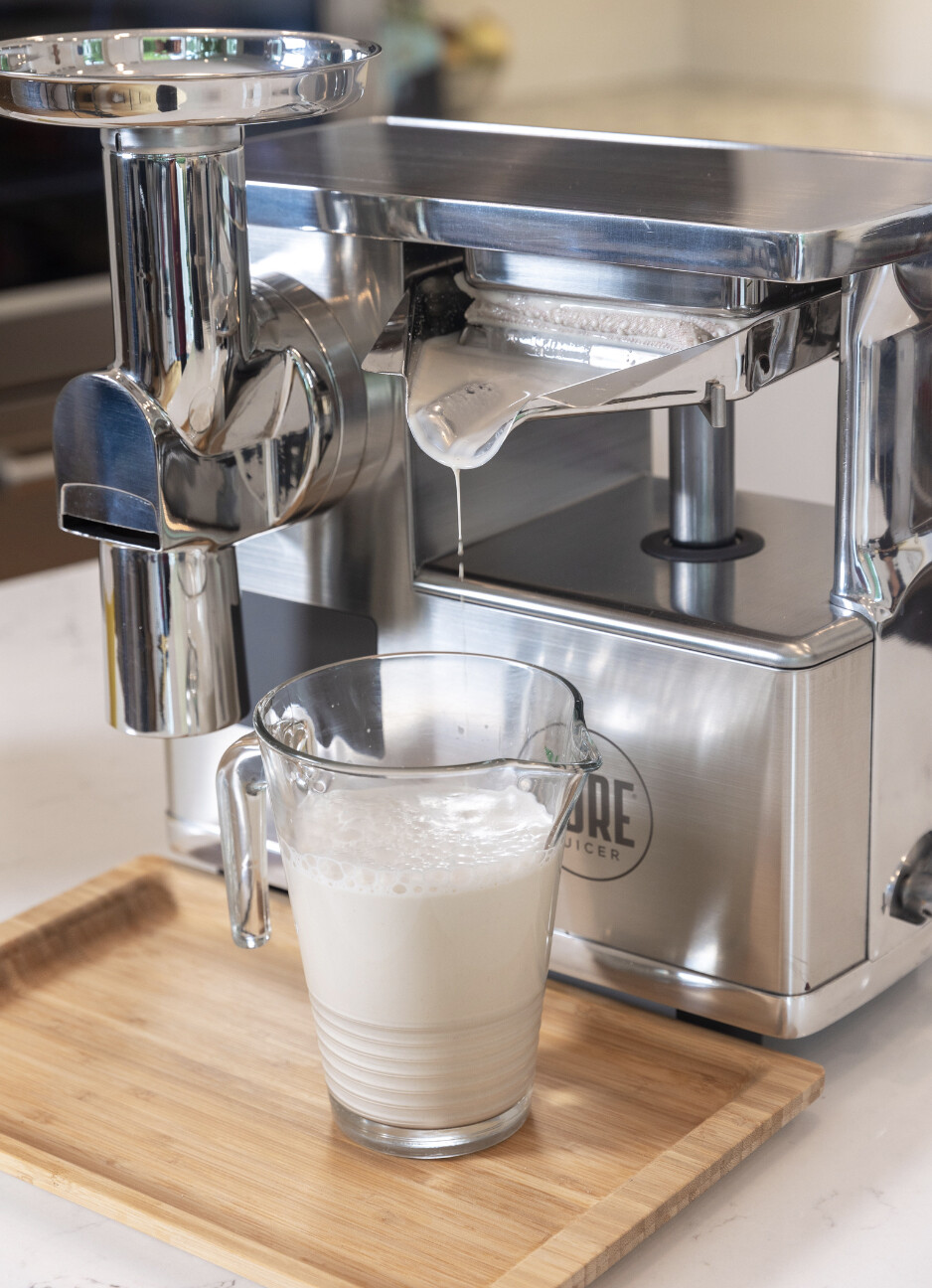 Full of protein and other nutrients like omega 3 fatty acids, vitamin E, calcium, and potassium, almond milk completes a wholesome breakfast and tastes amazing with treats like cookies and coffee.
Make an almond milk latte with PURE ground coffee
Why make almond milk at home?
At PURE, we believe it's best to know exactly what's in the food and drinks we're consuming and serving to our friends and family. Store bought almond milk (even if it's labeled "organic") contains additives and preservatives, and may not actually be made with raw almonds. Additionally, homemade almond milk, especially when made with our state-of-the-art juicer, is more nutrient-dense than the kind found at the store. Last but not least, homemade almond mik is consistently creamy and flavorful–unlike many store bought brands which can sometimes taste bland and watery.
How to make almond milk
The first step to making the dairy free milk of your dreams is to soak 1 cup of raw almonds in water overnight. Then, replace the soaked water with fresh water and grind the almonds and water, either with the powerful grinder in our state-of-the-art hydraulic cold press juicer or for larger batches, a blender. Finally, you need to squeeze (or press!) the almond pulp to strain the liquid from the almond meal.
Why grind and press almond milk?
When using the PURE Juicer for almond milk, you can bypass the use of a nut milk bag and instead let the machine do the straining for you (your hands will thank you!). Our PURE press cloths, which are designed especially for our state-of-the-art juicer, are crafted specifically to yield the highest possible nutrients while filtering pulp (or in this case, almond meal) to produce a smooth and delicious beverage.
How long will homemade almond milk last?
If you are working with a quality juicer like the stainless steel PURE Juicer, your fresh almond milk should last 4-5 days in the fridge. Yes, it's true that store bought almond milk will last longer, but remember, that shelf life comes at a cost. Once you get into a rhythm of soaking and pressing almonds, you'll find you're not adding much time to your weekly routine.
How to make almond milk with your PURE Juicer
The ingredients for a homemade almond milk recipe are simple: raw almonds and water. We love that the PURE Juicer saves time and energy when making our favorite dairy-free milk.
Soaking the Almonds
For each cup of raw almonds, you'll produce about two cups of almond milk. Since you will need to use the almond milk within a few days after making it, we suggest you soak 1-2 cups of almonds at a time.
Place the almonds in a large bowl and add three cups of water for every cup of almonds.
Soak the almonds for a minimum of 4 hours, and place the bowl in the fridge if soaking for longer than 6 hours. For the creamiest, richest almond milk, soak the almonds for as long as you can, up to 48 hours.
Draining the Almonds
When it's time to make your almond milk, retrieve your soaking almonds. The almonds will have absorbed much of the water in the bowl. Drain any excess water that may still remain.
Next, add a 2:1 ratio of fresh water (filtered water, if you like). If you started with one cup of almonds, add two cups of water.
Grinding the Almonds
For large batches, use a blender. Pour the almonds and water into your blender pitcher and turn on high speed. Blend until the almonds are completely crushed. The mixture should look white and frothy.
For smaller batches, you can use the PURE Juicer's grinder and #8 grid. Scoop the almonds and water into the feed chute before turning on the juicer. 
Almond milk has a natural, light sweetness to it, thanks to the lovely taste of fresh raw almonds. If you'd like it a bit sweeter, closer to what you might buy at the store, you can add fresh dates and vanilla extract to the almond and water mix before turning on the blender or PURE grinder.
Pressing the Almonds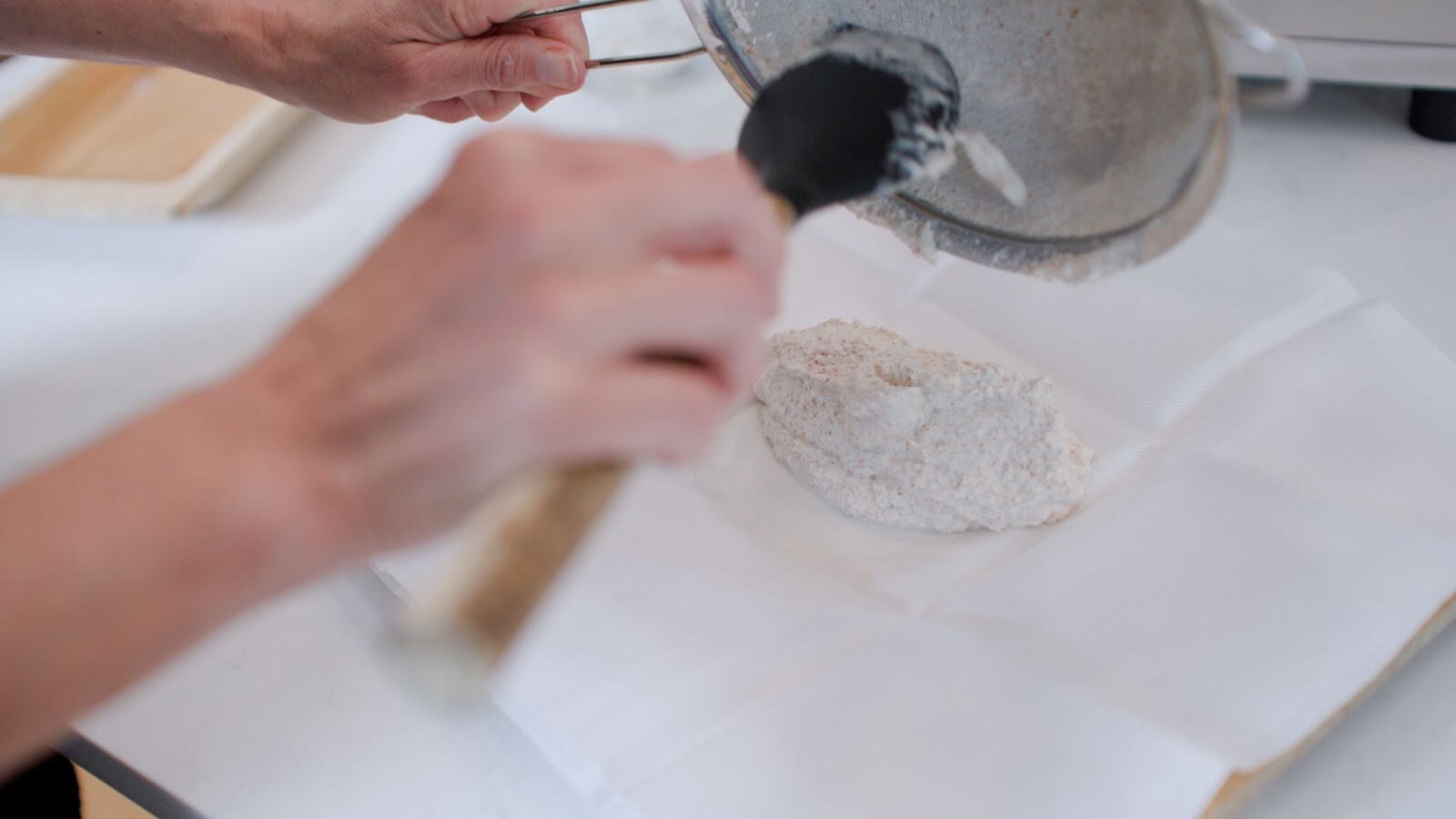 When using a blender, this is the step in the process when you'd usually hand-strain the almonds using a nut milk bag–but thankfully, this time-consuming (and messy!) extra step is eliminated by using the PURE Juicer.
Instead, scoop up the ground almonds and wrap them in a PURE press cloth. Place the folded cloth on the press plate. Turn on the PURE Juicer.
Voila! Homemade almond milk–fresh, creamy, and delicious.
Pro-tip: Don't toss the almond meal leftover in your press cloth! Store the almond meal in your freezer and use it for baking.
Flavoring Homemade Almond Milk
If you'd like to make flavored almond milk, try adding one of these ingredients to your almond meal before folding it into the press cloth:
vanilla almond milk: 1/2 tsp vanilla extract

chocolate almond milk: 2 TBSP unsweetened cocoa

strawberry almond milk: 1/2 cup strawberries
Health Benefits
almonds: a fantastic source of healthy fats, fiber, protein, magnesium, vitamin E, and antioxidants, almonds not only assist with blood sugar control and blood pressure regulation, they can also reduce LDL cholesterol and protect your cells from oxidative damage, a major contributor to aging and disease.
dates: though higher in sugar when dried, dates still maintain a low glycemic index due to the significant amount of fiber they contain. Because of their potent antioxidants, dates are anti-inflammatory and may help prevent the development of certain chronic illnesses like diabetes, cancer, and Alzheimer's.
vanilla extract: in addition to the calming scent and pleasing taste of vanilla, there is some evidence that vanilla beans have powerful antioxidant properties, are anti-inflammatory, neuroprotective, and potentially anticancer.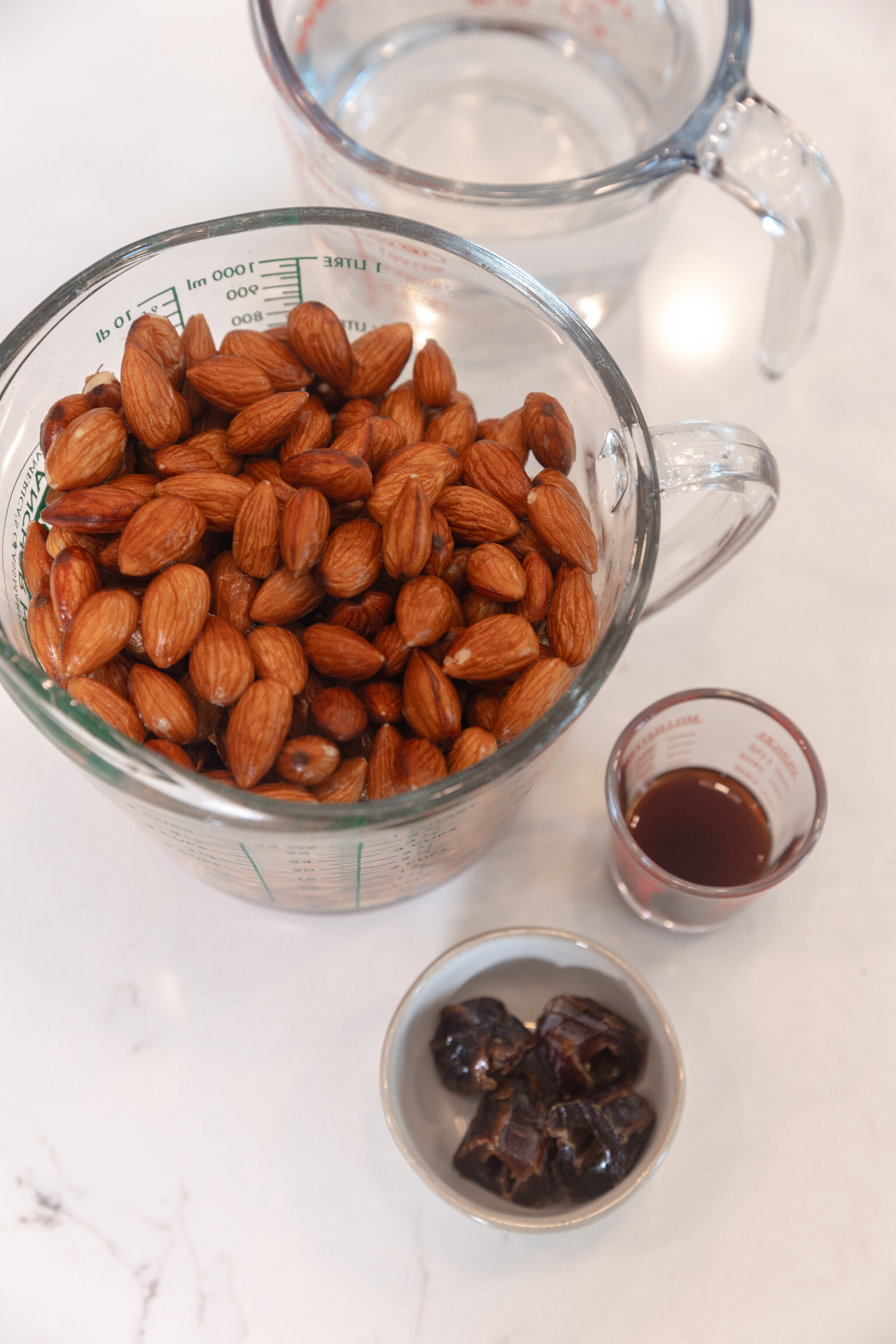 Sources
9 Evidence-Based Health Benefits of Almonds
8 Proven Health Benefits of Dates
6 Benefits of Vanilla Extract and Vanilla Beans
Medical Disclaimer
PURE Juicer is a juicing company. We are not doctors or medical experts. All content and information on this blog and website is for informational and educational purposes only, does not constitute medical advice, and does not establish any patient-client relationship by using this website.
Although we strive to provide accurate general information, the information presented here is not a substitute for professional advice. You should not rely solely on this information. Always consult a professional in your area for your health questions and concerns before making any professional, legal, medical, financial, or tax-related decisions.