Carrot-apple juice is a staple in Gerson Therapy and for our entire staff. The health benefits of carrots and apples (and their delicious taste!) easily make them some of  our favorite ingredients.
When we stumbled upon a recipe for homemade carrot cake from Jessica Seinfeld's book Vegan, at Times, we were excited to try it out in our test kitchen using our PURE Juicer grinder to provide home-ground apples and carrots.
Carrot-Apple Juice
3-4 carrots
1 apple
Yield: Approximately 10 oz of juice
Pro tip: We never make a batch this small! Increase according to your needs.
Homeground Carrot Cake Muffins
Yield: 12 muffins
Bake Time: 20 minutes
Total Time: 1 hour (plus cooling time)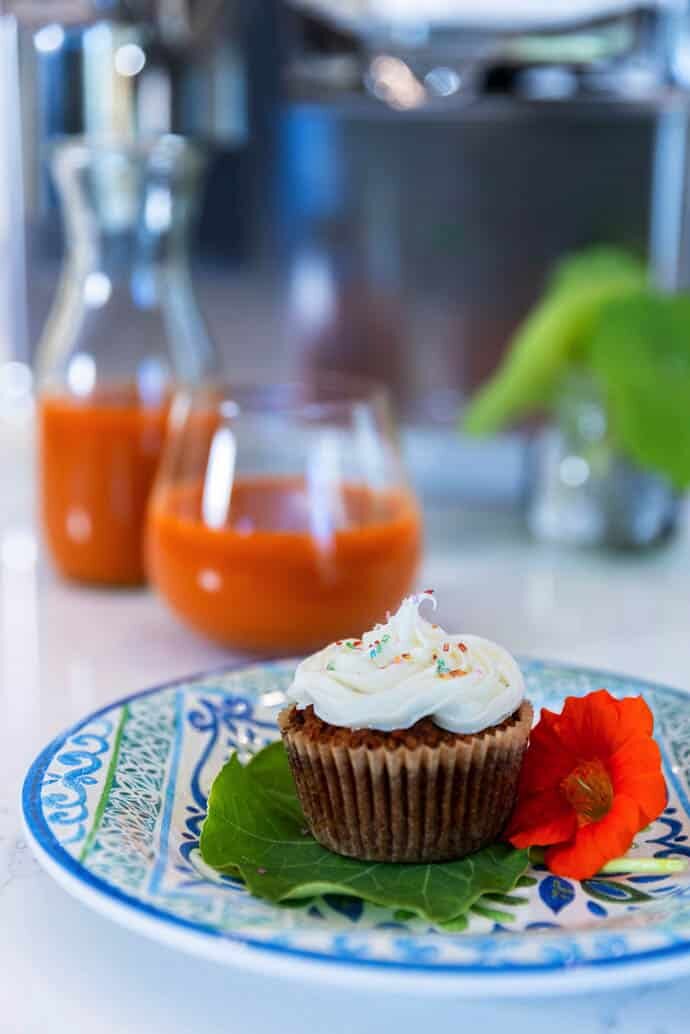 We love testing out recipes in our test kitchen, and Jessica Seinfeld's vegan carrot cake recipe was no exception. Grinding the apples with a #3 grid to produce homeground apple sauce and grinding the carrots with a #12 grid (because grating carrots is time-consuming and we are not about to buy grated carrots!) produced a texture and consistency that was even more beautiful than the original recipe. However, it was much too sweet for our taste. Our modifications include cutting the white sugar down and using a gluten-free flour combination (gluten-free flour + almond flour). Since we're not ones to waste an opportunity for cold-pressed juice, we made sure to grind extra apples and carrots, so we could wrap them and press them into carrot-apple juice.
Preheat the oven to 350 degrees and line muffin tin with liners or spray with cooking spray. Next, make one cup of applesauce by grinding 1-2 apples in the #3 grid. (Pro tip: consider adding a bit of cinnamon to any extra applesauce you want to save for later.) Next, grind the carrots using a #12 grid.
Combine the gluten-free flour, almond flour, baking soda, cinnamon, and salt in a bowl. Fold in apples, carrots, olive oil, vanilla, sugar, and coconut flakes. (Pro tip: combine wet and dry ingredients well, but do not over mix.)
Fill muffin tins to the top, but not overflowing. Bake at 350 degrees for 25 minutes.
Ingredients:
1 cup GF flour
½ cup almond flour
1 teaspoon baking soda
1 teaspoon ground cinnamon
¾ teaspoon kosher salt
1 cup ground granny smith apples (#3 grid)
½ cup extra virgin olive oil
½ cup sugar
¼ cup packed brown sugar
1 teaspoon pure vanilla extract
1 cup ground carrots (#10 grid)
½ cup coconut flakes|
Nonstick vegetable oil cooking spray
Tools:
PURE Juicer
Muffin tray
Knife
Bowl
Measuring cups and spoons
Cookie scoop
Wooden spoon
Spatula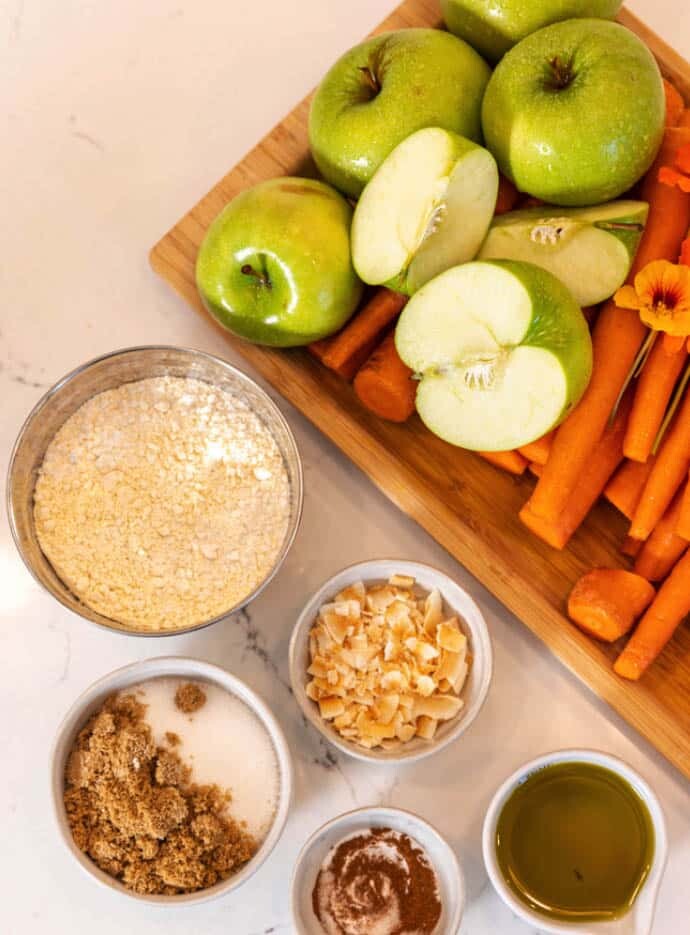 Health Benefits:
green apples: nutrient dense and high in soluble fiber, apples are an excellent source of vitamin C and antioxidants like vitamin E and polyphenols, which are linked to lower risk of heart disease and Type 2 diabetes. Apples can aid in healthy weight loss due to their high fiber and water content, helping to manage your appetite.
carrots: carrots boost immunity, keep blood sugar levels under control, and keep the digestion system in check. They also keep your eyes healthy— a unique property that not many other ingredients have.
Sources
8 Impressive Health Benefits of Apples
Carrots 101: Nutrition Facts and Health Benefits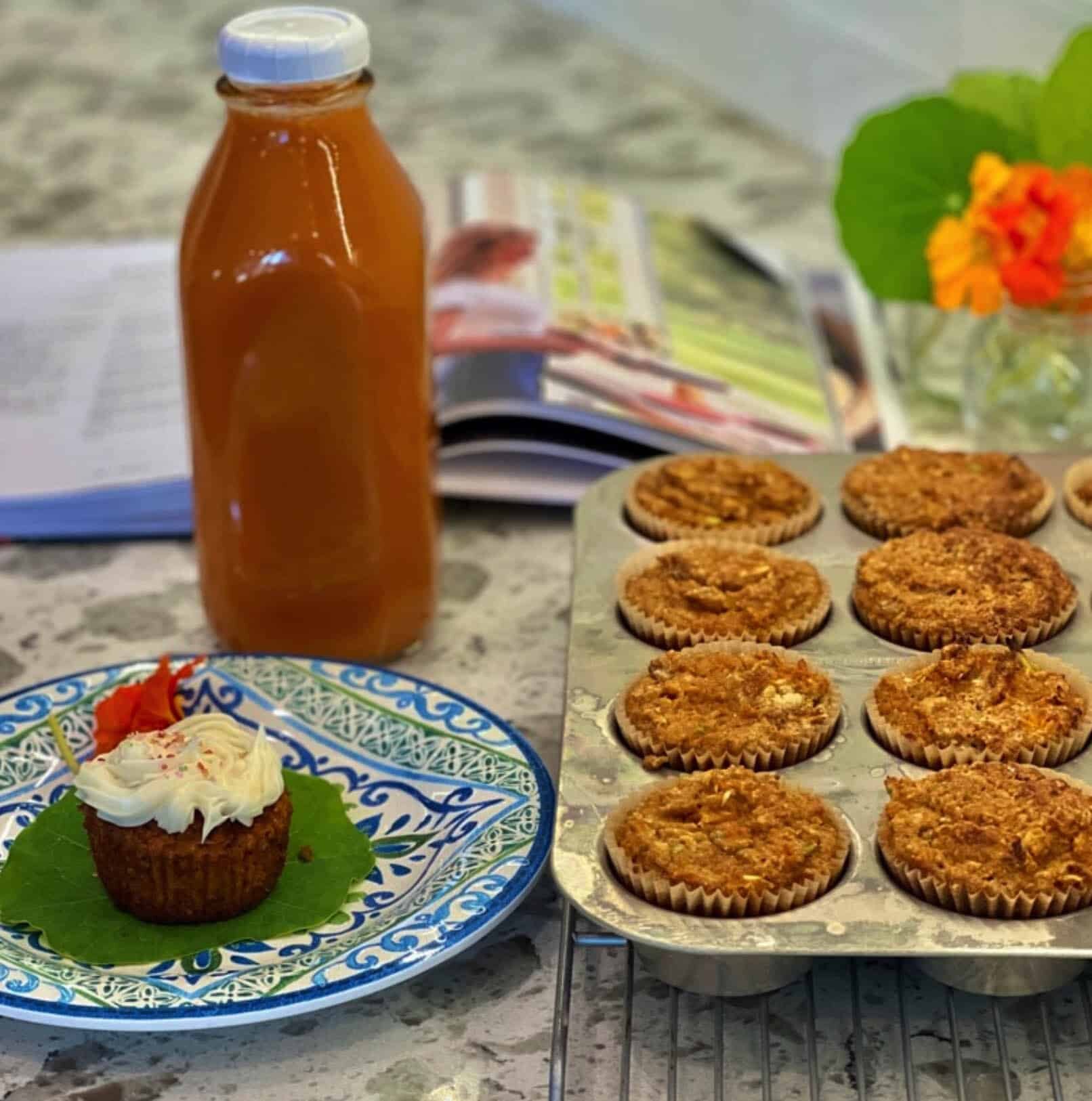 Medical Disclaimer
PURE Juicer is a juicing company. We are not doctors or medical experts. All content and information on this blog and website is for informational and educational purposes only, does not constitute medical advice, and does not establish any patient-client relationship by using this website.
Although we strive to provide accurate general information, the information presented here is not a substitute for professional advice. You should not rely solely on this information. Always consult a professional in your area for your health questions and concerns before making any professional, legal, medical, financial, or tax-related decisions.