Part One – Cardiovascular & Musculoskeletal
We are an active crew at PURE Juicer. With summer only a month away, we are ready to take advantage of local farmer's markets and fun outdoor activities. We hope you are too. So we decided to use the Periodic Table of Juicer to create active-inspired juice recipes for this blog.
We organized The Periodic Table of Juicing by body systems like gut health, brain health, skin & hair health, and cardiovascular health. Other groups like mitochondrial health, mental health, and immune health were added because they recently gained a place in health and prevention. These recipes use the table of juicing to create, what we think, are delicious additions to any PURE Juicer community member. They are beautiful to make, and our bodies love them.
We included a nut milk recipe and even a "nice" cream because the PURE Juicer can make the best home cold-pressed juice and make incredible foods and plant-based milks. And when we say 'more,' we also mean more of everything. The yield from a PURE Juicer is the best, and our hydraulic press squeezes every drop from everything we make.
RECIPES
The Runner: Almond – Strawberry Milk
We used elements from the cardiovascular group that promote a strong healthy heart and vascular system. It also happens to create this beautiful and tasty drink.
1.5 Cups Almonds
22 oz Water
2 Cups Strawberries
1-3 dates, depending on your preferred sweetness
Makes 20+ oz.
The Strawberry-Almond Milk is the perfect combination of berry character with the richness and creaminess of the almond milk. This milk recipe is delicious to drink on its own, or it would be delicious poured over your favorite granola or fruit bowl.
Instructions
Soak the almonds overnight (or for at least four hours). Blend the almonds and dates with the water and strawberries using new and fresh water. Strain this mixture and place the leftover pulp into a bag or cloth to press.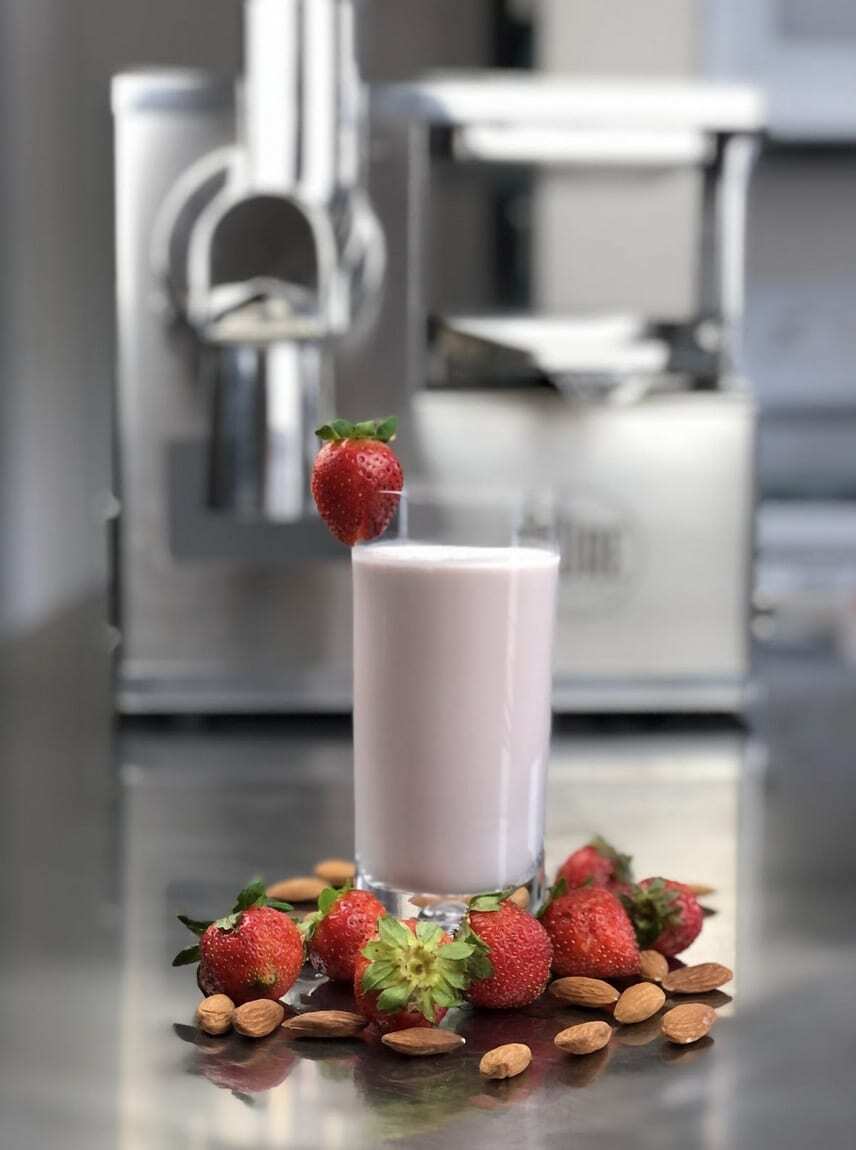 Health Benefits:
Almonds boost good cholesterol (HDL) and lower the 'bad' cholesterol (LDL). They are also known for their anti-inflammatory properties and are rich in antioxidants. Calcium, magnesium, Vitamin E, and phosphorus – are all great additions when including almonds in your diet. See more at WebMD.
And this heart-shaped fruit might be a giveaway for the cardiovascular gem, the strawberry. Potassium is good for the heart, and vitamin C and polyphenols are both antioxidants found in strawberries. See more at WebMD.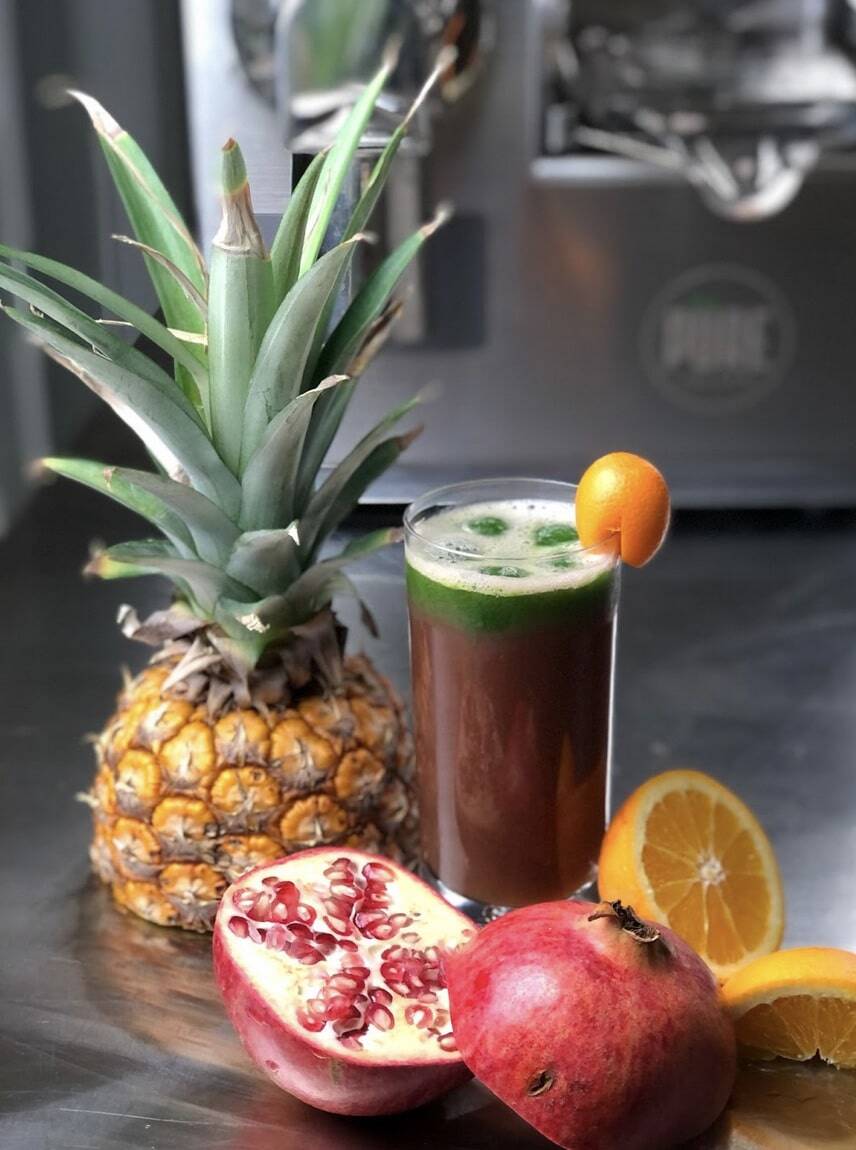 The Weightlifter: Spinach – Celery Cubes With Pineapple – Pomegranate – Orange
This juice is primarily from the musculoskeletal group of elements that promote muscle repair, protection, and growth. It also has a unique look because the density of the greens and fruits are different. 
1 Bunch Spinach
5 Stalks of Celery
½ Pineapple
1 Pomegranate
3 Oranges
Makes 36 oz of juice.
Delicious contrast of the salty green juice spinach – celery juice cubes with the tangy, fruity pomegranate – orange – pineapple Juice. Great way to get some extra vitamins and minerals from the green juice cubes paired with the sweet trio of pom – orange – pineapple. As the green juice cubes melt and mix with the fruit juice, the flavor experience changes with every sip!
Health benefits: There are many B vitamins(folate especially), calcium, vitamins A and C, potassium, iron, and even K1. We have included some links that we used to learn more about each ingredient below. What stands out is that these ingredients are great for repairing the body and protecting the body. And as we break our muscles down, we can use every compound from our juice to build us back up. Note: If you are concerned about oxalates, you can replace spinach and celery with greens like endive, romaine, kale, cabbage, or watercress. More below on this subject.
Spinach https://www.healthline.com/nutrition/foods/spinach#vitamins-and-minerals
Celery https://www.bbcgoodfood.com/howto/guide/health-benefits-celery
Note about oxalates: https://www.thekidneydietitian.org/low-oxalate-greens/
Pineapple: https://health.clevelandclinic.org/benefits-of-pineapple/
Pomegranate: https://connect.uclahealth.org/2022/03/18/health-benefits-of-pomegranates-extend-throughout-the-body/
Orange: https://www.webmd.com/food-recipes/health-benefits-oranges
Instructions: We juiced the greens separately from the rest. First, we used the #12 grid to grind the celery and spinach for the greens. We strained the celery and then pressed the celery and spinach together using a cloth. 
Cut the pineapple into two pieces (four quarters to a pineapple). We wrap one piece in a cloth and press. Cut the pomegranate in half (we remove the ends), wrap and press. Oranges, cut in half, wrap in a liner and cloth, and press. We can fit 1.5 oranges per cloth usually. The typical rule of thumb is 1.5 cups per cloth. Depending on whether your produce is organic, you can remove the peel from the pineapple, pomegranate, and oranges or keep them on. If they are organic, we like to keep them on to get the nutrients from the skins. 
Press the produce multiple times to get all the juice. Drink and enjoy. If you have any extra green juice, this is a great one to freeze in your ice cube tray.
Next, we will share The Dancer, The Walker, and The Yogi! Please share comments or ask questions below. Or join us online in our Instagram community at @purejuicer 
Medical Disclaimer
PURE Juicer is a juicing company. We are not doctors or medical experts. All content and information on this blog and website is for informational and educational purposes only, does not constitute medical advice, and does not establish any patient-client relationship by using this website.
Although we strive to provide accurate general information, the information presented here is not a substitute for professional advice. You should not rely solely on this information. Always consult a professional in your area for your health questions, and concerns before making any professional, legal, medical, financial, or tax-related decisions.