Time: 10 minutes|
Servings: 2-3
Ingredients: 
2 cups mixed berries (blackberries, blueberries, strawberries)
2 sleeves of açai
¾ cup avocado
Forget the smoothie shop: this sweet treat of an açai bowl is better than any you'll find in a store. The key to our recipe is the added avocado, which gives the mixture a creamy texture and will leave your belly feeling full (and your sweet tooth satisfied).
To make the bowls: 
Freeze the berries, açai, and avocado before grinding. Select a #4 grid plate to ensure a smooth texture. Before turning the machine on, put the frozen ingredients into the feed chute. When you are ready to grind, place your hand over the feed chute and only then turn the machine on. Move the frozen ingredients through the chute with the pusher. Scrape the feed chute with a spatula (you don't want to miss a single delicious bite). Finally, smooth the mixture and grab your favorite toppings.
The beauty of this bowl is you can top it with whatever is available and in season!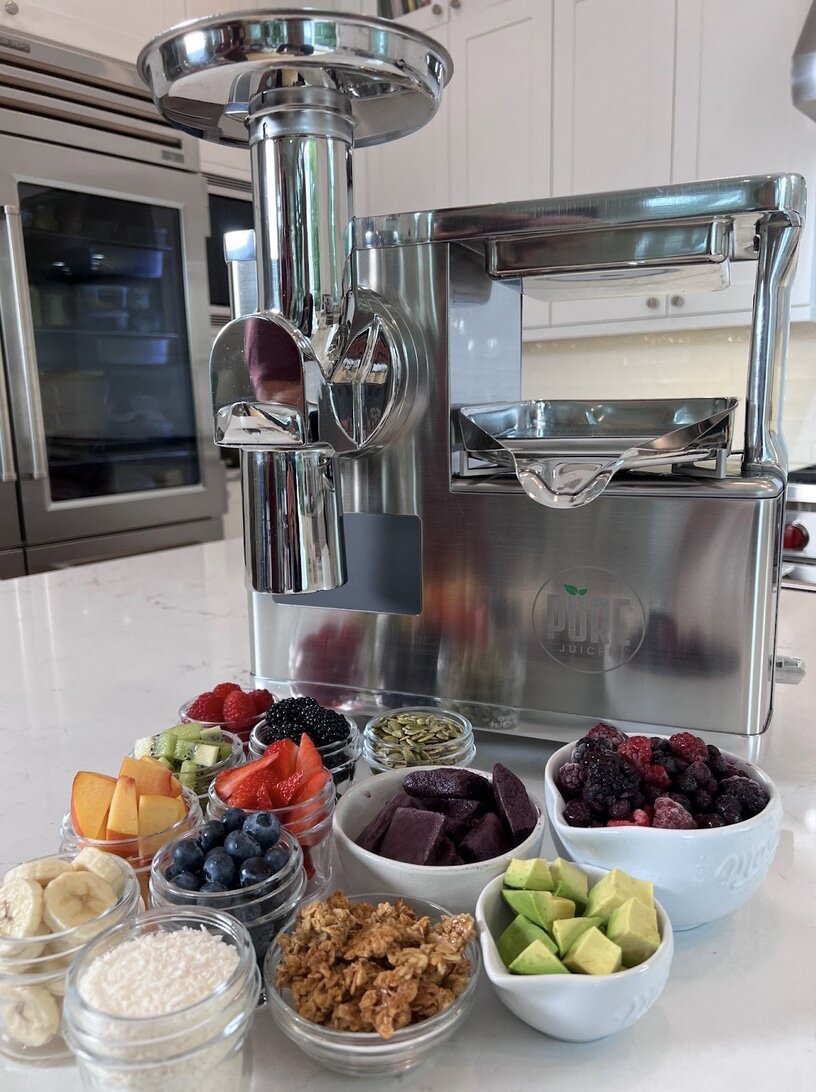 Try these delicious toppings on your PURE açai bowl:
bananas
blackberries
peaches
blueberries
strawberries
gluten-free granola
chopped cashews
coconut flakes
kiwi
The PURE açai bowl is good enough to eat for breakfast or even have it as a dessert. Since the mixture is homeground, you'll know it contains no refined sugar, gluten, or any type of processed foods (next time you're at the smoothie shop take a look at the ingredient list–you'll be surprised).  Rich in antioxidants and phytonutrients that nourish our bodies and keep us feeling young and full of energy, this açai bowl has become a staff favorite at PURE. We know you'll feel the same!
Watch our Chief Juicing Officer Jen making homeground açai bowls
Health Benefits
açai berries: a Brazilian superfruit, açai berries are low in sugar and full of healthy fats, anthocyanins, and other antioxidants which fight against free radicals in the body and help prevent disease. Açai has one of the highest ratings for antioxidants, three times as many as blueberries.
avocado: highly nutritious, avocados are rich in fiber, healthy fats, vitamin C, vitamin E, vitamin B6, potassium, magnesium, and folate.
blackberries: sweet and tasty, blackberries have a low glycemic index and are chock full of antioxidants, fiber, manganese, and vitamin K, which work together to promote whole-body health.
blueberries: low in calories but high in fiber, vitamin C and vitamin K, blueberries are thought to have one of the highest antioxidant levels of all common fruits and vegetables. The antioxidants in blueberries have been shown to reduce a predominant risk factor for heart disease by preventing oxidative damage to "bad" LDL cholesterol.
cashews: rich in healthy fats, fiber, and protein, cashews also contain essential minerals like copper, calcium, magnesium, iron, phosphorus, potassium, and zinc. Cashews may improve heart health, nerve and muscle function, and bone and oral health.
coconut flakes: a great source of manganese (which plays a role in carbohydrate and fat metabolism, mineral absorption, and blood sugar regulation), other minerals in coconut flakes include calcium, copper, magnesium, potassium and zinc. Though rich in fats, the saturated fat in coconut is a medium-chain triglyceride fat, the type more easily absorbed and metabolized by the liver and (which means it's less likely to be stored as fat in your arteries). Coconut flakes have been found to be a functional food that can help Alzheimer's patients and others with memory impairment.
kiwi: containing vitamin K, folate, vitamin E, potassium, and copper, kiwis are rich in antioxidants and play an important part of immune health.
peaches: known as a superfood, peaches boost nutrition and help build a strong immune system and a healthy heart, thanks to vitamins and antioxidants, including vitamin C, polyphenols and carotenoids.
strawberries: made up of 90% water, strawberries are not only hydrating but also a great source of vitamin C, manganese, folate, and potassium. They're rich in antioxidants and plant compounds that can be beneficial to blood sugar control and heart health.
Sources
5 Impressive Health Benefits of Açai Berries
7 Potential Health Benefits of Avocado
6 Blackberry Health Benefits You Can't Ignore
10 Proven Health Benefits of Blueberries
8 Powerful Benefits of Cashews
Can Unsweetened Coconut Flakes Be Healthy?
All the Health Benefits of Eating Peaches
Strawberries 101: Nutrition Facts and Health Benefits
Medical Disclaimer
PURE Juicer is a juicing company. We are not doctors or medical experts. All content and information on this blog and website is for informational and educational purposes only, does not constitute medical advice, and does not establish any patient-client relationship by using this website.
Although we strive to provide accurate general information, the information presented here is not a substitute for professional advice. You should not rely solely on this information. Always consult a professional in your area for your health questions and concerns before making any professional, legal, medical, financial, or tax-related decisions.