Three Juice Recipes That Inspire Healthy Activity!
Juice recipes for mental & brain health, energy, cancer prevention, and immunity.
In part one of this blog series, we shared recipes for cardiovascular health and musculoskeletal health. In part two, we have three recipes that help our brains, energy, and immune systems.
RECIPES
The Dancer
They say dancing is one of the best ways to keep our brain and body youthful. And research has even shown that people who started dancing regularly said they had more energy, stamina, and vitality. So, we used brain and mitochondrial health ingredients from the Periodic Table of Juicing to create this rich and delicious juice.
The Dancer:
Carrot – Red Apple – Lime – Turmeric
4 Apples
3 Carrots
1 Lime
3" Thumb Turmeric
Makes 22 oz of juice.
Instructions
Use a #8 or #10 grid. Grind the apples, carrots, then the turmeric. Put 1 cup of ground mash into a cloth or bag. Slice the lime in half and put ½ on top of the mash. Fold and press. Refold and press one more time.
Health Benefits:
Apples: Something we don't hear about is that apples can help fight asthma by protecting your lungs from oxidative damage. They also contain lots of fiber, feeding your gut with healthy bacteria, protecting against chronic diseases like diabetes and heart disease.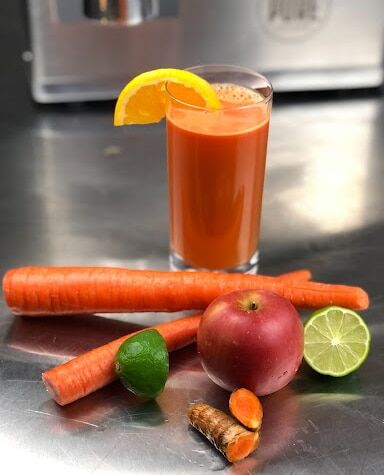 Carrots: Many know that carrots are great for eyesight, but they also have many other benefits, such as helping with weight loss, reducing cancer risk, and supporting gut health.
Lime: limes are rich in vitamin C. Vitamin C is required to make collagen. Thus limes can play a role in skin health. This Vitamin C is also important for immunity because the body cannot produce this vitamin on its own.
Turmeric: Turmeric is diverse in its benefits as it can help patients with Alzheimer's, improve depression, and aid in cancer prevention. Its active ingredient, curcumin, is responsible for these benefits.
The Walker: Brain, Cancer Prevention, and Cardiovascular Health
When we tried this simple, two-ingredient combination, we agreed that this was a "Nice" cream that would motivate us to walk or even run to the grocery store to buy these ingredients.
We pulled from cardiovascular health and cancer prevention in the Periodic Table of Juicing to make this recipe. For an extra boost for cancer prevention, why not top this with mango, blackberries, papaya, peach, strawberries, or even figs? Dried coconut can also be used as a topping, which is great for mental and immune health. And for mitochondrial health, goji berries, mulberries, or apricots.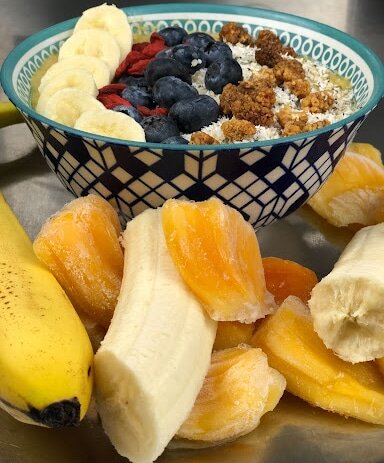 The Walker: Jackfruit-Banana Smoothie Bowl
2 Cups Frozen Jackfruit
2 Cups Frozen Banana
Makes 3 cups.
Instructions
We used a #2 grid in our PURE Juicer.
Before turning the machine on, we filled the feed tube with frozen bananas and jackfruit. After covering the top of the feed tube with our hand or pusher, we turned the PURE on and pushed the frozen banana and jackfruit through. That is it. You can clean the feed tube to get every last drop. Add toppings of your choice.
Health Benefits:
Jackfruit: Jackfruit contains phytonutrients, which have been proven to prevent aging, and is another heart-healthy fruit due to its potassium and fiber content. This fiber can also contribute to healthy weight loss by causing you to feel full for a longer period.
Banana: Bananas are known for their potassium– a powerful nutrient that can specifically support heart and kidney health. Not enough people receive the daily requirement of this mineral, but bananas are a convenient way to combat this, as one medium-sized banana contains 10% of your daily value.
Toppings
Blueberries: Studies have proven blueberry consumption to prevent type 2 diabetes by 7% and inhibit tumor growth or help fight off specific cancers, such as esophageal, lung, mouth, pancreatic, prostate, and colon. They have also been connected to improving mental health in older women.
Goji: Goji berries hold a few properties different from other fruits, including boosting hair health, improving mood, promoting wound healing, and helping with fertility. Their other benefits are decreasing cancer risk, boosting immunity, and improving eyesight.
Mulberries: Mulberries have been linked to lowering unhealthy cholesterol levels, maintaining good blood sugar levels, and reducing cancer risk. Anthocyanins, rutin, and myricetin found in these berries are all responsible for these benefits.
Coconut: Coconut can help prevent the growth of harmful bacteria that causes infections and foodborne illnesses. Its phenolic compounds are also great for stopping oxidative damage to your body's cells.
The Yogi: Mental Health
The celeriac-fennel-lemon Juice will transport you to coastal Europe with the subtle black licorice fennel flavor. The celeriac balances out the fennel with its earthy saltiness, and the lemon acidity pulls it together. This would be great as a pre-brunch juice!
The Yogi: Celeriac-Fennel-Lemon
1 Celeriac
1 Bulb Fennel
½ Lemon
Makes 16 oz of juice.
Instructions:
Use a #10 grid. Cut the fennel and celeriac to fit the feed tube (they can be long, but they should be narrow to fit). Grind both into a bowl. Put 1.5 cups of mash in a cloth or bag. Add a slice of lemon and press. Fold and press once more for a full yield.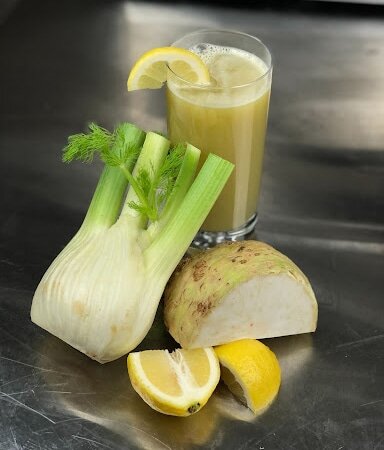 Health Benefits:
Celeriac: Celeriac is full of vitamin K, which promotes bone health. A cup of celeriac contains 64 micrograms of vitamin K. Studies have shown that greater vitamin K consumption results in fewer bone fractures.
Bulb Fennel: Nitrates found in fennel hold vasodilatory and vasoprotective properties that can help lower blood pressure and protect your heart. Another way it can keep your heart healthy is through its rich fiber content, which helps lower LDL cholesterol.
Lemon: Lemons can play a role in weight control by helping you feel full for longer. The citric acid in lemons prevents kidney stones from forming because of its high acidity. They can promote good digestion, reduce cancer risk, and fight anemia.
We hope you give these recipes a try. Stay tuned for next week, where we make food using stage one (the grinder) on a PURE Juicer.