How do we make our mouths water, generate less waste, and see the world more optimistically, all through the PURE Juicer? By Jen Longtin
"I am a woman who works, who is also a wife and mother and in the past few years, a teacher, counselor, chef, cleaner, entertainer"… says most women I talk to. So when Covid hit, life for women in my community–and I am sure most others–went uncomfortably still. The shutdowns in Seattle were some of the first and I held it together these past two years by sticking to a few essentials. I checked in on my loved ones regularly, exercised five to seven days a week, had strong faith, and began creating every concoction under the sun using my PURE Juicer.
When life served me more than I could 'digest' (which was daily), I'd go to the kitchen and make a new cold-pressed juice. I'd share pictures or videos of it with family and our PURE Juicer community, and we would all marvel at what nature and the PURE created. Every time I juiced, my senses were flooded with the smell, taste, texture, and beauty of fruits and vegetables. And I forgot what I was anxious or angry about. My excessive juicing became a problem so I started sharing it with the neighborhood. Everyone loved it, and I felt like I delivered a little sunshine on their doorstep.
Last year, I watched the ground-breaking film, "Kiss The Ground," which motivated me to find new ways to support regenerative farming through composting and buying locally.
As a result, I have tested new ways to make juicing zero waste. Some ideas include composting. The pulp is perfect for this and worms love the pulp as it's easy for them to eat. I have also explored using pulp with food like soups and pasta, in lemony fresh cleaners, and even as the main ingredient for invigorating face masks.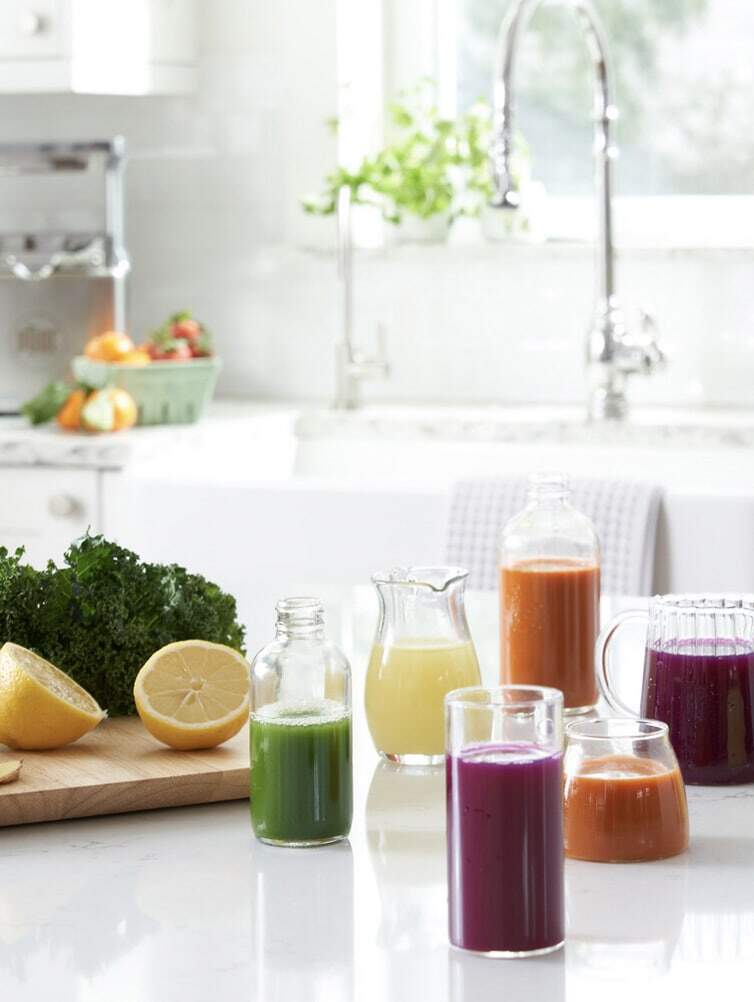 Using my fruits and vegetables to the next level has kept me recharged and connected to my food, body, and community. What was first a simple act of juicing to add more phytonutrients to my diet has now become a playful approach to how I digest life.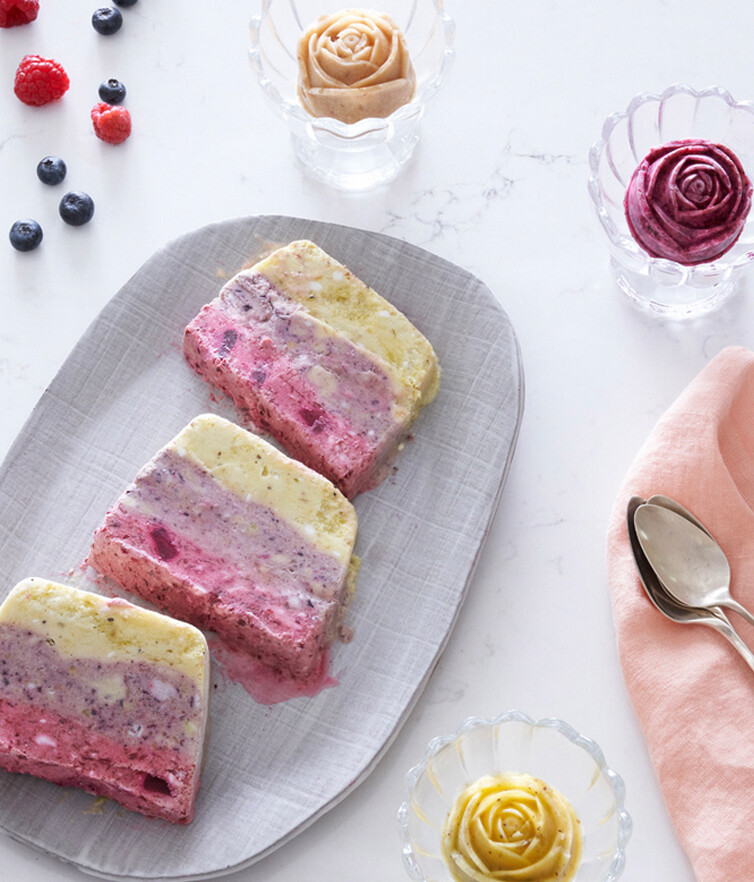 Our eyes are the gateway to our digestion.
Science has proven our digestion begins the moment our eyes see our food. Our mouths water the minute we see something we are going to eat. And on the contrary, if we see something that we don't like to eat, our body starts to stress and slow digestion. Ayurveda, a century-old system of medicine focused on integrating the body, mind, and spirit, has a similar concept in that we digest life the same way, through our eyes. We either salivate for what we see in life, or we do not.  And my experiment these past two years has shown me that I can digest my food and my life easier with more fruits and vegetables, and more play.
In this blog, it is my honor and my goal is to make your mouth water with juice, food, and possibilities. My team and I created delicious new juice recipes, and through the practice of play, we have found ways to use the juice and the PURE pulp for food, treats, cleaning products, and other creations to bring us joy.
In addition to the beauty of these creations, we are fortunate to have our medical advisor, Gillian Ehrlich, ARNP, highlight the health benefits of the ingredients and how these phytonutrients are supporting our health.
Why do we juice?
We Nourish. We Do Not Deprive
We are moving into a (glorious) world where juicing is no longer just for rapid weight loss and wheatgrass. Instead, we juice to digest more fruits and vegetables in a day, helping us meet our daily requirements and nurture our bodies with the nutrients it needs to continue to be healthy and strong. We juice every color that the sun, seeds, and soil provides us. Even broccoli…(and it's delicious).
We See and Feel The Difference
We juice for ourselves and quickly realize that the whole family craves juice. Our skin brightens within weeks, our teens have fewer blemishes, and we notice our cravings change. Drastically for some, like me.
We Stay In Season
Eating fresh fruits and vegetables becomes a gift. We can buy what's in season, and it allows us to change our juices and foods, just as nature intended. We also find ways to create delicious treats using frozen organic ingredients that complement our juicing routine.
We Celebrate
Juicing is not just for cleanses and fasts. Juice is flavorful and colorful. It takes our drinks, foods, and desserts to the next level.
How Does PURE Juicer Compare?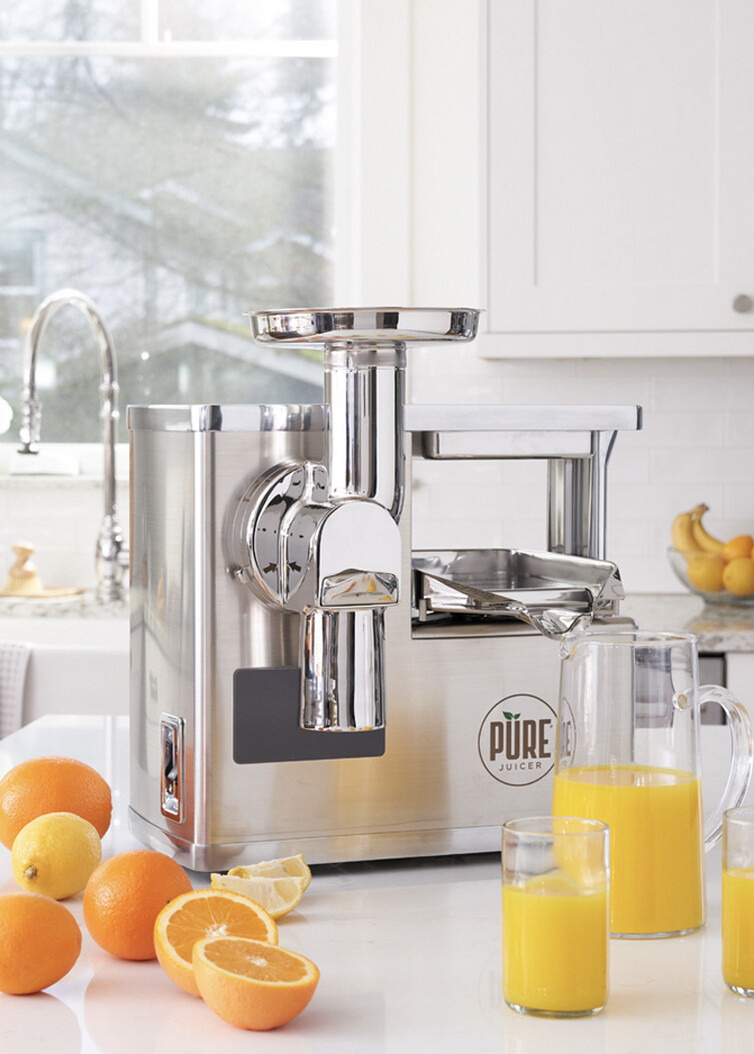 A two-stage juicer has two steps. A grinder and a press. Like a wine press or olive oil maker. The grinder uses a half-horse power motor to grind all produce–from the crunchiest carrots to the toughest watermelon rind–quickly, leaving the produce as cold as it started. Keeping the heat out of the equation means optimal enzyme density for the most nutritious juice. Next, we wrap the ground produce in special filter cloths that remove the pulp and can withstand 2.5 tons of pressure from the hydraulic press. The press extracts 30-50 percent more juice than other juicers, and since we use cloth and not metal filters, the juice is pulp-free and silky in texture.
PURE Juicer is efficient and fast, delivering enough juice for you to share. It uses food-grade stainless steel making this juicer strong enough to have a 12-year warranty and to safely toss the pieces into the dishwasher for cleaning after you're done. And it is beautiful enough to keep on your counter as a centerpiece for health and inspiration.
More juice, efficient to make, and quality that has been tested and determined to have the highest enzyme count for the longest shelf life of others tested. We recommend drinking green juices within 24 hours and others within three days for the highest nutritional value. Still, we have also found freezing juice retains a high percentage of enzymes and lasts up to 30 days (some say even longer).
The more you juice, the more you crave juice. And with more juice comes pulp. So we have created some new recipes for juice and then share some of our latest revelations on using pulp.
What Can We Do With The Pulp?
Pulp is the insoluble fiber that is extracted from the juice. By extracting the pulp, our bodies need less energy to digest the food, making juice a gentle way to nourish the body.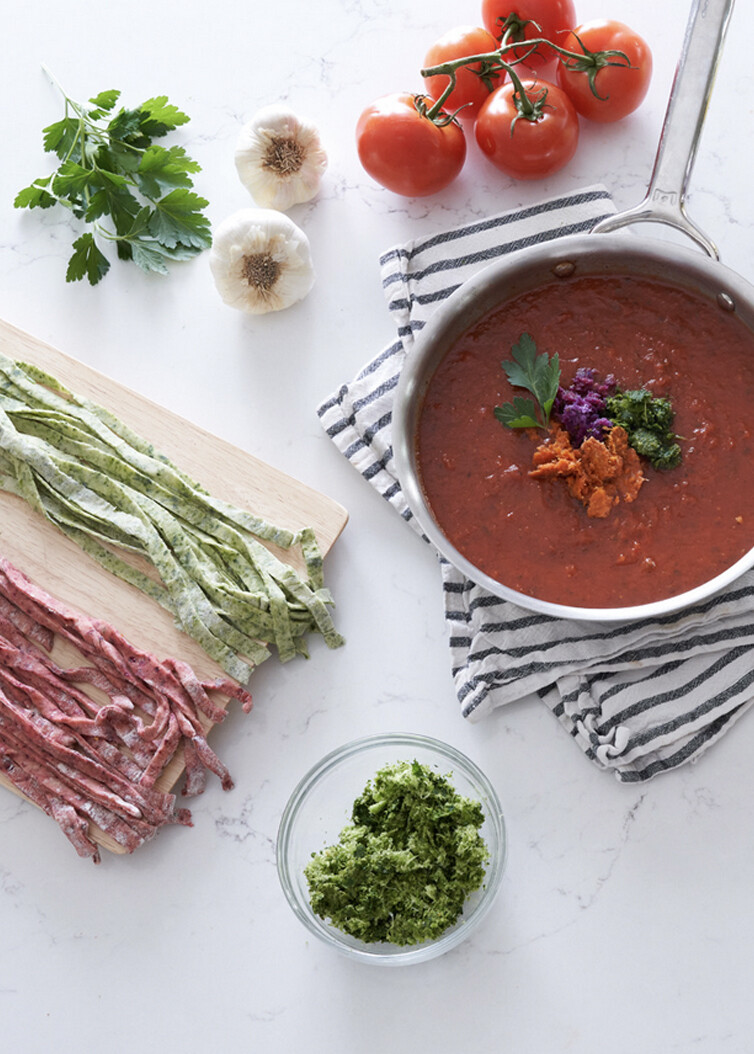 Pulp is perfect for our compost bins and gardens, plus the worms love it. This leftover fiber breaks down quickly and nourishes our soil to give us another season of fresh produce. Some friends sprinkle the pulp into their soil; others add it to their compost bins, sometimes with a bit of water because the PURE pulp is completely dry.
We also know that fiber is essential for a healthy gut (microbiome) and enjoy experimenting with ways to add the fibrous pulp to our existing favorite recipes. For example, we add a cup of pulp (plus water) to our blended soups and tomato sauces…giving them a hearty texture with filling results.
Many people are sensitive to synthetic fragrances, and our homes are filled with them from fabric softener to dish soap instead of purchasing commercial cleaning products made with synthetic scents. We make our own all-natural cleaning products. , We use the fragrant peels of lemons, oranges, and grapefruit for fragrance and combine them with everyday kitchen staples like vinegar, olive oil, and baking soda we have created our own home cleaning products. I feel better, my home smells better, and my dog's nose is happier.
Our latest discovery is dropping bright juice and pulp into pasta to create colorful pasta with a story to share when you feed it to friends and family.
In the morning, use just the stage one side of the PURE juicer to blend whole frozen fruits into sweet treats into breakfast açai bowls or oatmeal. In the evening use it to make fresh fruit sorbet, ice cream, and dessert treats for the family.
Boil cloves, allspice, basil, lemons, pineapple rind, ginger, turmeric, and oranges for homemade tea or potpourri. Both are perfect for a relaxing evening.
And don't forget to try blending your cucumber-apple pulp with aloe vera and rose oil (or a scent of your choosing) to create a 'mud' mask that will leave your face tingly and alive!
Recipes
Any homemade pasta can be turned into a delicious elixir feast. Simply take the pulp from any of these recipes and add about a tablespoon of the pulp to it. You can replace some of the water with the juice to enhance the color too. We have a recipe and demo in an earlier blog post
Big Juice: Every season, we like to recommend a few of our favorite green juices. It is a great way to meet our daily requirement of greens and if you drink these in the morning, they are a gentle way to 'break our fast' from the nighttime, gently waking up our digestive system. These two are crowd-pleasers and truly celebrate spring!
All make 20 ounces of juice using a PURE Juicer. The serving size is 10-20 ounces.
Garden of Drinkin'

One bunch of kale
1 green apple
½ bunch of parsley
1 cup of broccoli
5 ribs of celery

Green Sunshine

1 bunch of dandelion greens
1 lemon
½ bunch of celery
1 cucumber
3 cups of spinach

H2-Cucumber

2 cucumbers
1 green apple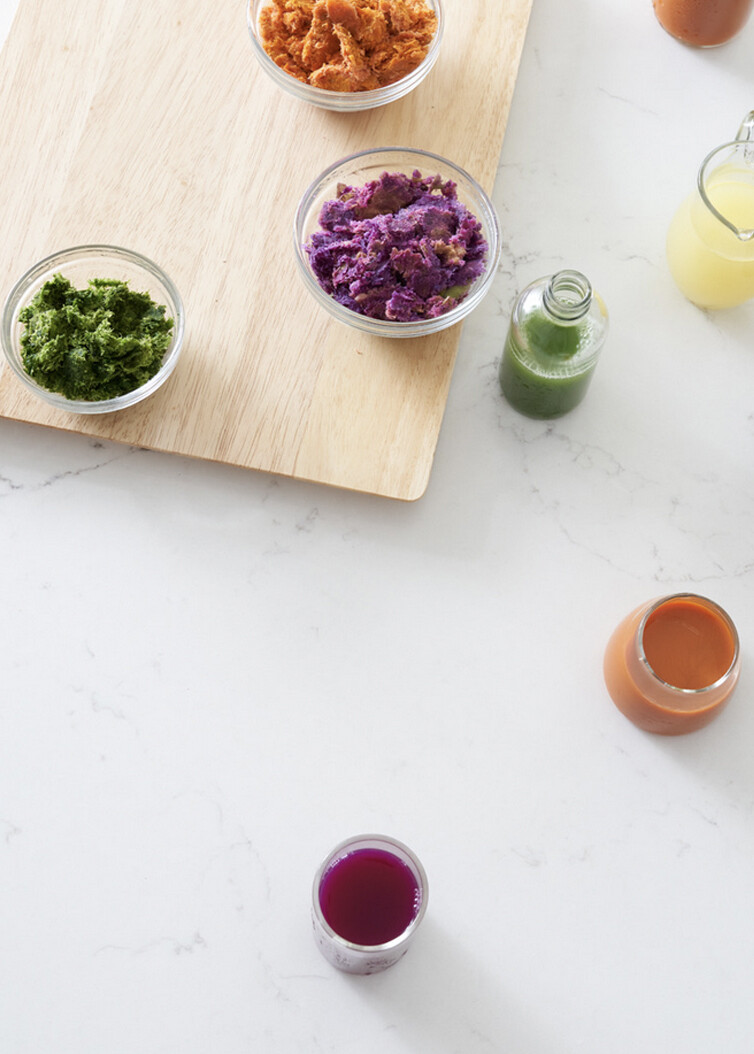 Make My Mouth Water!
All juices are fresh and full of life. And the pulp from these juices can be used to make vegetable stock (simply add the pulp to a pot with water and simmer for an hour), or it can be used to make any sauce more hearty. In this image, we added pulp from the green juice and some of the elixirs to our spaghetti sauce.
Masks that are fresh and revitalizing! And we took the pulp from the cucumber-apple juice and combined it with 2 tablespoons of aloe vera (fresh from a leaf or use aloe juice), 2 tablespoons of honey, and 3 drops of rose oil. The mask is more like mud so we placed the mask on our faces. Then we sat back and drank our juice.
Daily Immune Boosters: Decreasing inflammation and increasing about ability to digest food are two big factors in building our immune system. This juice is designed to do both while also tasting like a ray of sunshine!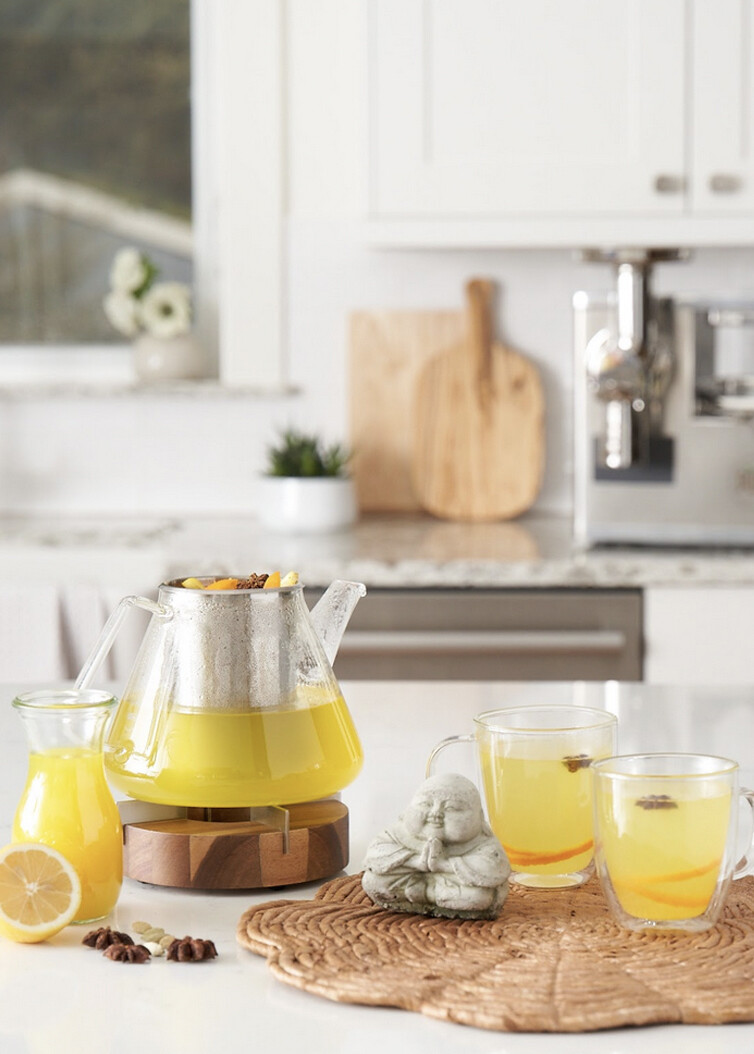 This recipe makes 30 ounces of juice using a PURE Juicer. The serving size is 10 ounces.
Rays of Sunshine: 
3 lemons
3 oranges
2 cups of ginger & turmeric
⅓ pineapple
Make My Mouth Water!
This juice is one of the best things we have ever made. It is so good, we are delighted to find ways to use the pulp for more delicious creations. In this edition, we used the pulp to create an immune-booster tea. Add a little bit of the juice for a stronger flavor.
We added star anise, cinnamon, and cardamom for some extra spice. Sweeten to your desire.
And we didn't stop there. We used some extra leftover lemon peel to create a wood polish and multi-purpose cleaner.
The polish used lemon rind, 1 cup of olive oil, ¼ of vinegar, and a touch of lemon juice.
The cleaner used lemon rind, 1 cup of water, three drops of liquid soap, 2 tablespoons of vinegar, and a teaspoon of baking soda. Careful when combining these ingredients. Add slowly (or add fast and see how many bubbles can be made – it's like a school science project).
Sneaky Treats!
Ice cream – What we call frozen fruit blended through a PURE Juicer. It tastes like ice cream and the texture is like ice cream. But there are zero preservatives and no added sugar.  Fruits are full of nutrients that our bodies love. The rich yellows, purples, and reds all represent unique phytonutrients that also taste remarkable. These recipes are just the beginning and we invite you to simply buy your favorite fruits, freeze them, and blend them into the most amazing treat your taste buds have ever had.
Makes 4 servings. The serving size is ½ cup. Run all ingredients through the PURE Juicer grinder using a #2 grid, or blend. (Please note that if you are using a blender, you will need to add milk or water for better blending).
Frozen Beach
1 cup pineapple
2 whole kiwi (we freeze them. Peeling is optional)
1 cup mango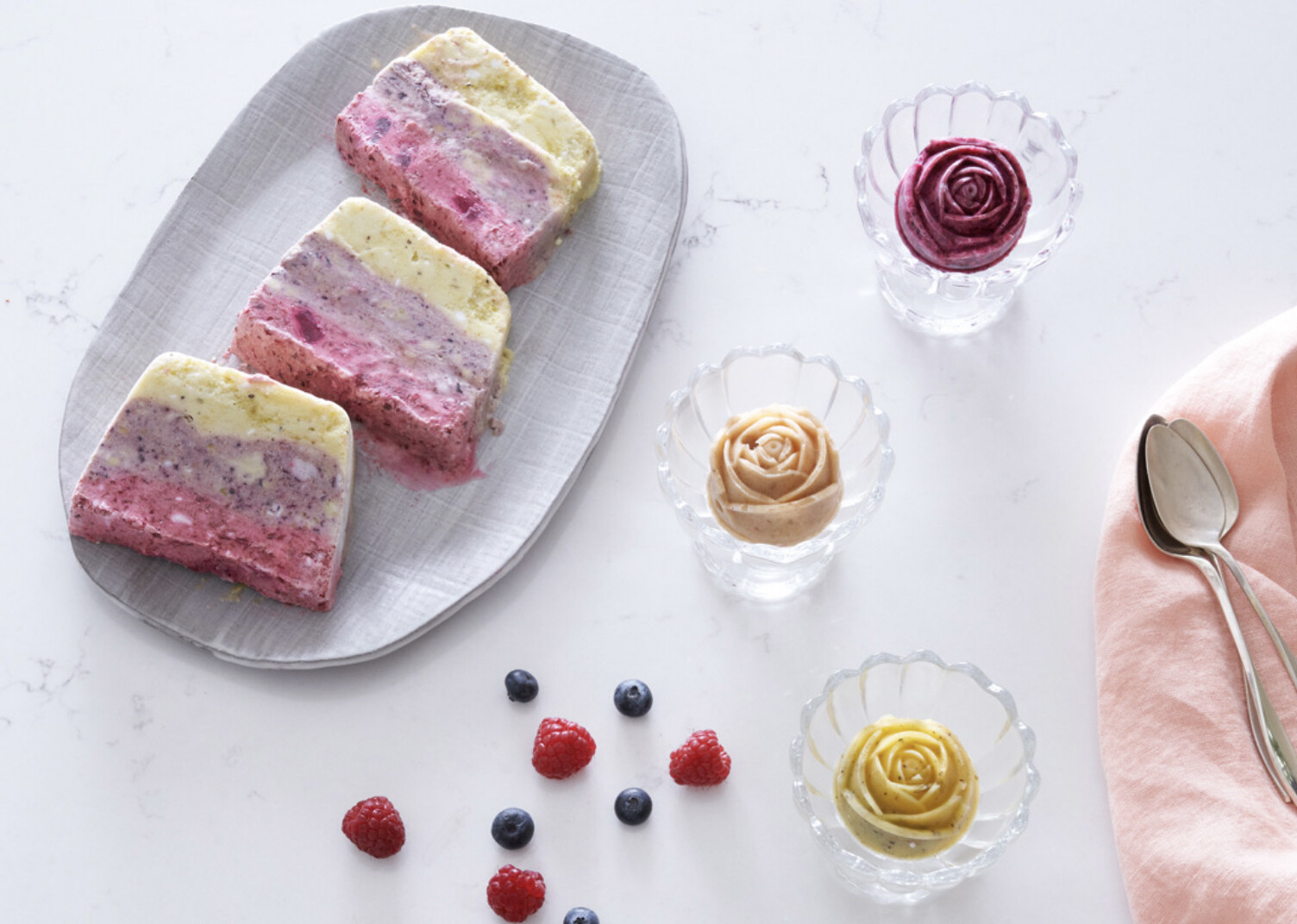 Avo-Licious
2 cups mixed berries
1 cup avocado
½ banana
Purely Fresh
2 bananas
1 cup peaches
Berry Break
1 cup cranberries
1 cup blueberries
1 pear
½ cup coconut cream
Juice, food, and even life have endless possibilities. And cracking into what nourishes us will delight and possibly shift our outlook to brighter possibilities.
If we can celebrate & digest what we serve ourselves for nourishment, maybe we can better digest what the world serves us in life.
Jen Longtin, Chief Juicing Officer at PURE Juicer.