These dog treats are loved by our furry best friends and US! Using the dry pulp from carrot-apple juice, plus some well-known healthy foods pups love, these treats are healthy and a new fun way to use our juice pulp. Not only is this recipe yummy for doggos, but humans love them too and they are the perfect way to make juicing a completely zero-waste process. Rich in fiber, they are an excellent way to complement a vibrant diet of other plant-based foods and juice. 
Puppy Pulp Treats by PURE Juicer
List of ingredients:
(Makes two full cookie sheets of treats)
½ cup – Apple sauce
¼ cup – Flaxseed soaked in water
1 cup – Gluten-free oats
2 Bananas
¾ cup – Peanut butter
¼ cup – Pumpkin (optional but great for tummies)
6 cups – carrot-apple or carrot-apple-greens pulp broken into small pieces
In a blender, combine all ingredients. Blend until smooth. Add a little water if necessary. We blended the pulp in after but you can do this all together for a smooth-textured treat.
Spread a thin layer of the mixture onto a cookie sheet and back slowly at 150 degrees for 45 minutes. Flip the layer over and cook for another 45 minutes. Cut into small pieces and store in the freezer until use. You can also use a cookie scoop and cook the same way. Really, there is no way to mess these up…the dogs will love them so bake them in any design you want.
Note, if you want these for YOURSELF, try spreading almond butter or dipping in a sauce for a little extra flavor.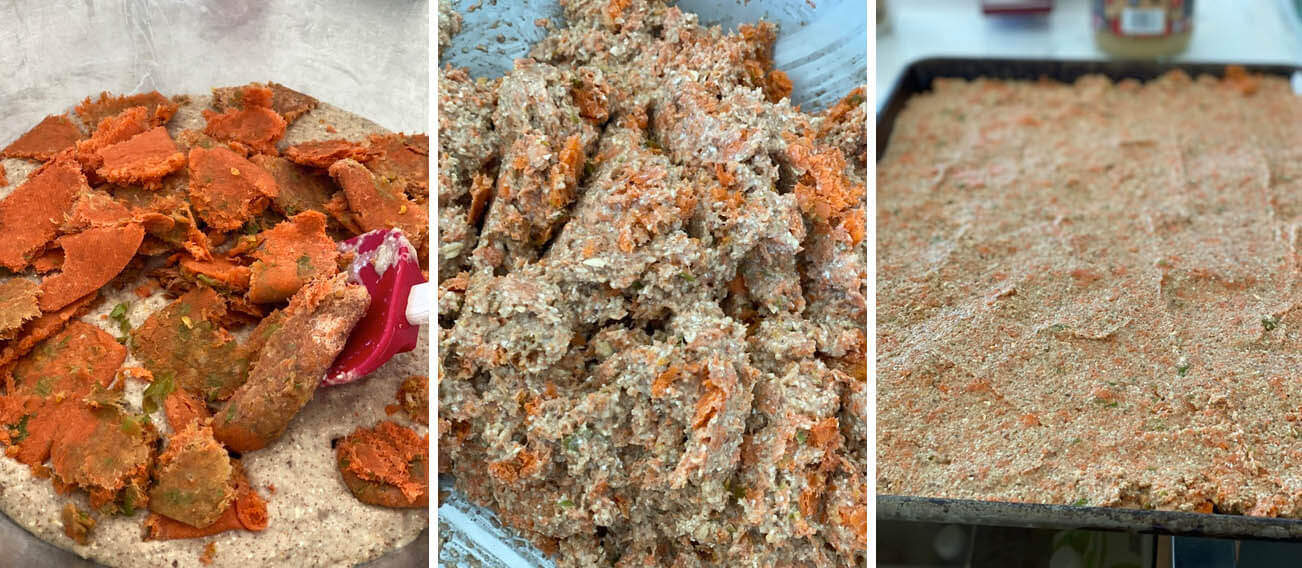 Health information 
Carrots: Carrots are a root vegetable rich in carotenoids, flavonoids, polyacetylenes, vitamins, and minerals. They were first used medicinally and then their orange form became a popular everyday food. Your eye doctor is right when they say carrots are great for eye health. This is because of this high vitamin A density which keeps an eye's photoreceptors healthy. Beta-carotene, the carotenoid with high vitamin A activity, protects vision and against macular degeneration. Because carrots are low calorie and low fat, they make for a great treat for diabetic dogs and those trying to lose weight. And because they are high in soluble fiber, carrots help canines with bowel movement regularity.
Apples: Apples are the second-highest consumed fruit because of their wide geographical and seasonal availability. These fruits are known especially for their linkage with decreasing the risk of cardiovascular disease (CVD) due to their concentrations of polyphenols. Specifically, they have been shown to have powerful effects on vascular function, blood pressure, inflammation, and hyperglycemia. Because apples are low in protein and fat, they are especially great for senior dogs.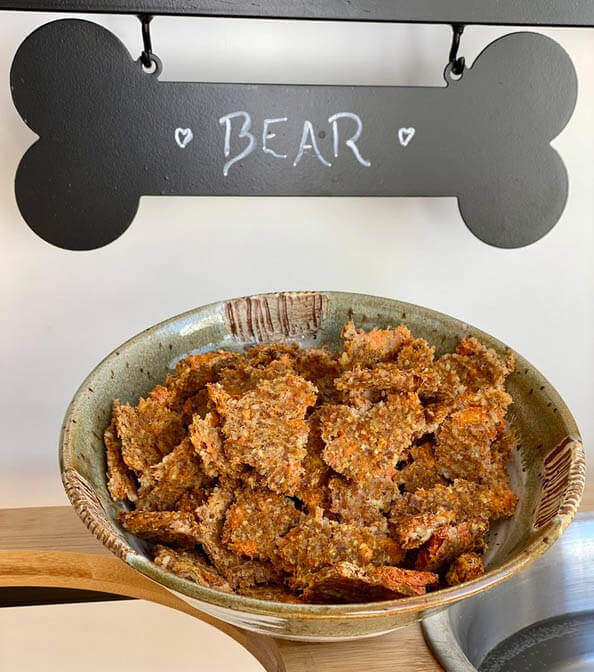 Flaxseed: Flaxseed is a seed that comes from the flax plant, an annual herb. It is beneficial for its polyunsaturated fatty acids omega-3 family, soluble dietary fiber, lignans, proteins, and carbohydrates. Omega-3 fatty acids specifically are being researched on their healing effects for ulcers, migraines, and ADD + ADHD. Finally, flaxseed packs the minerals calcium, magnesium, and phosphorus. Notably, fiber is important for digestive health for pups, while protein provides energy and keeps the immune system strong.
Oats: Differing from other grains, oats provide one of the richest dietary double fiber beta-glucan and total soluble fiber sources. Notably, oat consumption is highly correlated with a reduced risk for coronary heart disease (CHD). Beyond their cholesterol-reducing properties, they exert additional cardiovascular benefits. Oatmeal contains vitamin B, which helps maintain a healthy coat, and linoleic acid, a type of omega-6 fatty acid that helps keep a dog's skin strong and healthy.
Bananas: Bananas contain several bioactive compounds such as phenolics, carotenoids, biogenic amines, and phytosterols. Many are known for their antioxidant properties and reducing oxidative stresses. Like carrots, they were originally used medicinally for chronic degenerative disorders. Because bananas have a higher sugar content than other fruits, they should be used for treats only.
Peanut butter: Peanuts are a good source of Coenzyme Q10 and contain all the 20 amino acids with specifically high amounts of arginine. These bioactive compounds are recognized for having disease preventive properties. Their nutritional profile is highest in protein, fats, and fiber and all three of which are in their most beneficial form. Plant-based protein, unsaturated fat, and complex carbohydrate fiber. Most peanut butter is safe, but some peanut butter manufacturers have switched to using the sweetener xylitol, a sugar substitute. It is safe for people, but toxic to dogs.
Pumpkin: Pumpkin is low in sodium and high in carotenoids, potassium, and vitamin C. Low calorie and high in soluble fiber makes pumpkin an ideal addition to your dog's diet to promote a healthy digestive tract.
We really believe in the power to create and use what you have at home, so feel free to add blueberries, greens, anything else you may want to share with your beloved mate. But note, there are foods that are not recommended for dogs. For a list of foods to avoid, click on this link from Dog Food Insider where you can find a great infographic: https://www.dogfoodinsider.com/9-tricks-getting-new-puppy-eat/
Thank you @amelia_bedilia_the_golden on IG for being our model and taste tester.
Sources:
https://www.scirp.org/html/5-2701422_52066.htm
https://www.redbarn.com/blogs/blog/the-top-5-reasons-to-include-carrots-in-your-dogs-diet
https://eurofir.eu/bacchus/wp-content/uploads/sites/5/2017/10/TIFTS-Nicola-P.-Bondonno-Catherine-P.-Bondonno-Natalie-C.-Ward-Jonathan-M.-Hodgson-Kevin-D.-Croft.pdf
https://www.akc.org/expert-advice/nutrition/fruits-vegetables-dogs-can-and-cant-eat/
https://zellavie.ch/wp-content/uploads/2019/01/fulltext_ajnfs-v2-id1045.pdf
https://www.petmd.com/dog/nutrition/healthy-foods-checklist-flaxseed-dogs
https://citeseerx.ist.psu.edu/viewdoc/download?doi=10.1.1.512.7310&rep=rep1&type=pdf
https://www.akc.org/expert-advice/nutrition/can-dogs-eat-oatmeal/
https://d1wqtxts1xzle7.cloudfront.net/54695100/Singh_2016-with-cover-page.pdf?Expires=1621983620&Signature=MXiEJdtaN4FKVl7m~vwHpasqCTzrrG1-6DS952xGflwG6I47-SDnDWJGTICfnh4iKJ~w8n41wOnE28M7aLAh-iY10nVBVNhiaAdNDH9kl4XkCRZgDt-XvPwX7bKNmFYUKApjCPVNpS1cq6~PPk90a6l8Pss4pijJrZFVBu9jL5Fvp~sqOAPZZVOexr-jRBOHilEBLy0sWZnXoAf5~QcrRTNV-PyqHYCDjyy1DH3dnxH2OHHKIp1wS9EdsbPN4QwE2fY5cnAJqKwmcChkRncXib9JD4DvPtxTeRp4~OBi9xzrXNaYWYnl74i91sYfcPeSgF4gRmxGmzjf6N~SV0Gxdw__&Key-Pair-Id=APKAJLOHF5GGSLRBV4ZA
https://www.akc.org/expert-advice/nutrition/fruits-vegetables-dogs-can-and-cant-eat/
https://www.ncbi.nlm.nih.gov/pmc/articles/PMC4711439/
https://www.akc.org/expert-advice/nutrition/can-dogs-eat-peanut-butter/#:~:text=Yes%2C%20dogs%20can%20eat%20peanut,and%20share%20the%20good%20news
https://thebark.com/content/10-super-foods-you-and-your-dog
https://be.chewy.com/nutrition-pet-diet-tips-10-superfoods-you-should-feed-your-dog/
https://www.akc.org/expert-advice/nutrition/fruits-vegetables-dogs-can-and-cant-eat/